Breakfast, Lunch, or Dinner Quiche
What else can I make besides scrambled eggs and bacon?  This is in the Top 10 list of questions we receive.
Eggs are great!  We know that, but we also get tired of the same old thing every day!
A Quiche is a great way to dress up your eggs in a beautiful way that the whole family can enjoy for any meal of the day.  It is filled with all the great nutrients that eggs provide, and anything else you wish to add to give it that special touch.  It is also a method to hide vegetables if you have picky eaters!  And…best of all, it cooks great without a crust.  No need to add carbs to something so savory and wonderful already!
These are great with the end of school approaching because you can prepare it a day ahead, and it reheats quickly and perfectly.  It is also delicious as a weekend dish straight out of the oven!  Fresh quiche just melts in your mouth.  Prepare to be creative and enjoy!
---
Crustless Broccoli Garlic Bacon Quiche
1 cup chopped onion
10 ounces chopped broccoli florets (approx. 3 cups)
5 cloves garlic
4 Tbsp butter
6 large eggs
1 1/2 cups cream
2 cups shredded sharp cheddar cheese (I didn't have so I used a Colby/Monterrey Jack)
6 slices of cooked bacon
1/4 tsp cayenne
1 tsp ground mustard
1/2 tsp salt
1/2 tsp fresh ground pepper
1/4 tsp freshly ground nutmeg
9 1/2 inch deep dish pie plate
Preheat oven to 400 degrees.
Gather your ingredients, and chop your onion, garlic, and broccoli.  This is my favorite garlic chopper!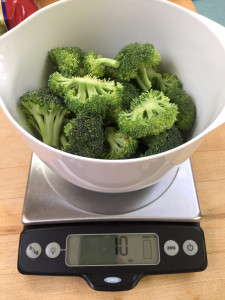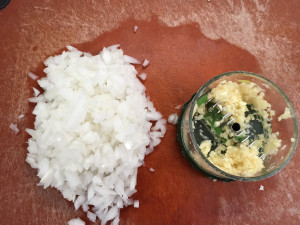 Sauté your onion and garlic in the butter.  Then add your broccoli to soften slightly.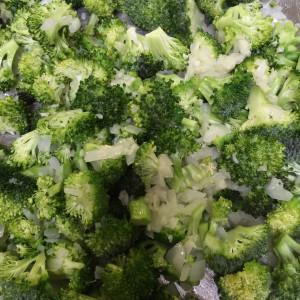 Spray your pie dish with coconut oil spray (you can find it here).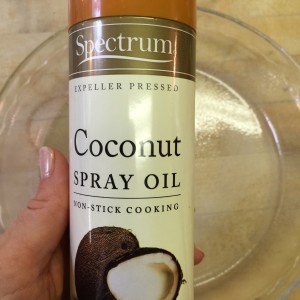 For a Quiche, you want to layer your ingredients.  Start with your sautéed vegetables, and then top with bacon.  This goes for any type of quiche – veggies on the bottom, then your meat, then cheese, then top with your egg mixture.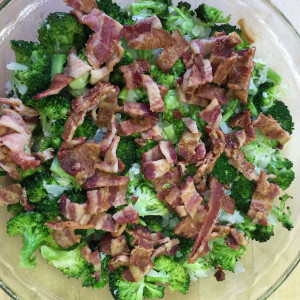 Sprinkle the cheese on top of the bacon.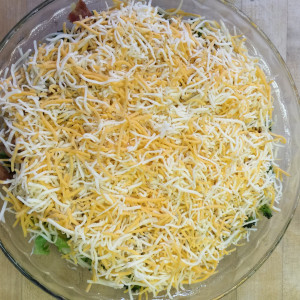 Mix your eggs, cream, nutmeg, ground mustard, cayenne, salt and pepper.
Pour over the cheese.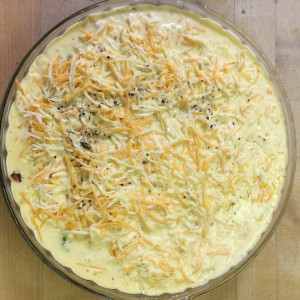 Place your quiche in your preheated 400 degree oven for 15 minutes.  Reduce heat after 15 minutes to 325 degrees and bake for an additional 30 minutes.
It should look puffy and delicious when you remove from the oven: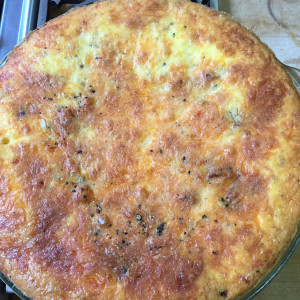 As it cools, it will sink slightly.  Allow to cool for 20 minutes or so if you want to enjoy it right away.  If you are preparing ahead, allow to cool completely, cover with saran, and store in the refrigerator until ready to use.  This will keep for up to 5 days in the refrigerator.  Reheat in the oven or in the microwave for about 30 seconds a slice.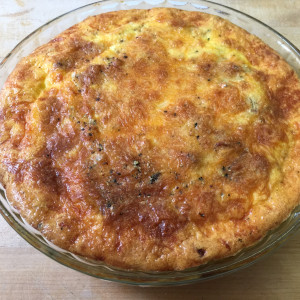 Be creative with your ingredients.  My children have requested ham and cheese for the next one.  You can do spinach and parmesan, vegetable, bacon and cheese, or any other combination you can imagine.  Just remember to layer in the order above and cook accordingly!  Enjoy!