So many of us that follow the Ketogenic Lifestyle often eat eggs for breakfast.  It is easy to quickly become tired of plain old scrambled eggs.  We can mix them with chorizo, serve them with bacon or cheese, but underneath, they are still the same old scrambled eggs.  Anytime you eat the same thing over and over again, it becomes tiresome.  So what to do?
Mix it up with different cooking methods.  This one is especially easy and fast with little mess, so it is a staple on busy weekday mornings.  You can also gourmetify it with a little extra effort on the weekend.
Today, I am going to show a family favorite, and it only takes 7 minutes from start to finish with one dirty pan.  By the way, the pan is extremely important unless you are only cooking for one, in which case, you can just use boiling water.
How to cook a poached egg:
Start with an egg poaching pan and great eggs from pasture raised and fed hens.  I have two pans, one with 4 inserts and another with 6, just depending on how many want one or two eggs.  You can buy the larger 6 egg poacher here where I purchased mine.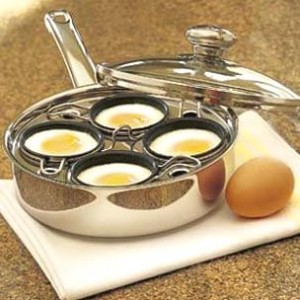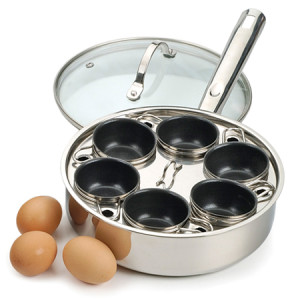 Today I used the four egg poacher.  I purchased this one years ago from Williams Sonoma.  Lift one cup out and pour about a 1/4 inch layer of water to cover the bottom of the pan to create the steam.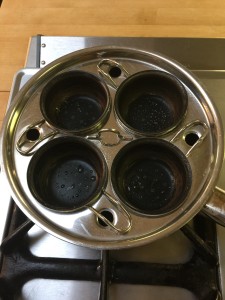 Spray each cup with coconut oil spray.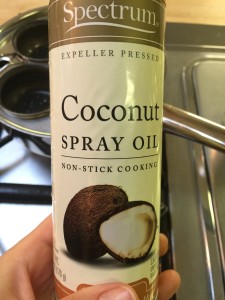 Place the lid on the pan, and turn your heat to high.  It should start steaming with boiling water in no more than two minutes.
Once it is boiling, turn your heat down to Medium, and crack eggs one at a time, placing them in a cup insert.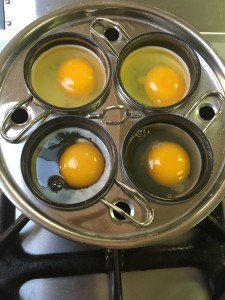 Place your lid on, and set your timer for 4 1/2 to 5 minutes.  Depending on how you like your yolk, you may need to adjust your time.  This time gives us a nice somewhat runny center but firm white.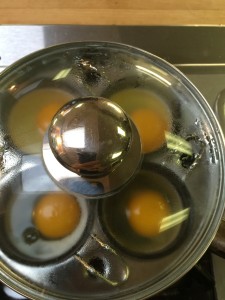 Once the eggs are set, and don't jiggle if you nudge the pan a little from side to side, remove from heat and empty each egg onto your plates.  Be sure to use a hot pad to protect your finger tips.  I usually run a knife along the outside edge of the insert, but it is not always needed.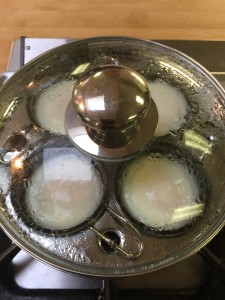 My husband likes his plain with salt, pepper and sometimes a little homemade salsa.
I love mine with a little hollandaise.  Stay tuned this week for this awesome recipe!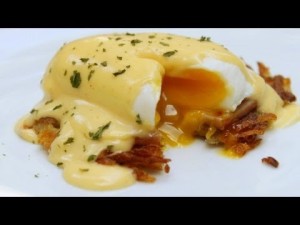 Poached eggs are so versatile.  Here are a few other ideas that I love to try when we have a bit more time:
Place in an avocado with or without bacon:
Get your greens too by serving over spinach or asparagus:
You can even eat them over a salad!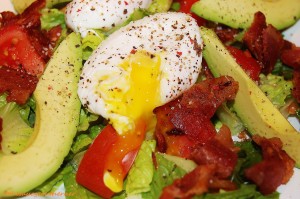 Enjoy your wonderful healthy eggs!