Great Side Dish for a Bar-B-Que!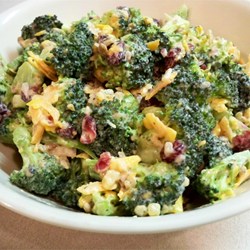 This is one of my favorite side dishes for a Bar-B-Que when you have gone Low-Carb!  Perfect for the Memorial Day holiday and filled with many of our favorite ingredients!
We hope that everyone has a safe, fun weekend filled with laughter, and time spent with loved ones and friends!  Special thanks to all who have served to protect our freedom this Memorial Day!
Bar-B-Que Broccoli Salad
8 Slices of Bacon Cooked and chopped
2 heads of Broccoli (chopped and lightly steamed-emphasis on lightly)
2 cups of Sharp Cheddar Cheese, shredded
1/2 red onion finely chopped
1/2 cup red wine vinegar
1/4 cup xylitol
3 tsp black pepper
1 1/2 tsp salt
1 1/2 cup mayonnaise
2 tsp fresh lemon juice
1.  Cook your bacon and lightly steam your broccoli.  Cool.
2. Mix together your red wine vinegar, xylitol, black pepper, salt, lemon juice, and mayonnaise.  This is your dressing!
3.  Combine your broccoli, cheese, bacon, and onion, and combine together for your salad.
4.  Slowly pour and mix your dressing with your salad, tossing to combine well.  Start with half of your dressing, and add more to your desired taste.  Let it sit in the refrigerator for 2 hours before serving.
5.  Enjoy!