Another BIG question!
How do you eat out on Keto?  Well, it's not as hard as you would imagine…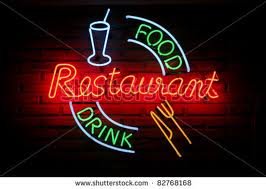 When we first started cutting carbs, it was a bit intimidating to go out.  I wanted to know the exact source of my food and exactly how it was being prepared.  This is much easier to do at home, but I still wanted to socialize with my friends.  I wasn't about to give up my few evenings of "adult time" away from the kitchen because of Keto!  I soon learned I didn't have to give up restaurants and neither do you!
I had always considered myself an easy, low-maintenance restaurant patron.  And, if I must be honest, I was a bit embarrassed when someone at the table was the "difficult one".  I really love all food, and am a bit of a foodie.  I love trying new things and new preparations, so eating out was always an adventure.  It still is an adventure, but I am a little more cautious when ordering.
I may not be quite as low-maintance, but I have found that restaurants are more than willing to answer questions about preparations, and even more willing to oblige on certain dietary restrictions.  While once an insult to a chef to change his/her dish, it is now all the more common as consumers have more and more dietary restrictions, whether allergies or eating preferences.  Don't hesitate to ask!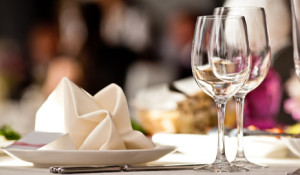 ---
Here are some of my general questions when asking about a dish:
Is there sugar in the sauce?
Is the dish gluten-free?
What is the side accompaniment?
Is it breaded?
May I substitute the starch for another vegetable?
May I have the protein grilled or sautéed instead of fried or breaded?
You will find that breading, sauces, and sides are the main culprits.
---
Here are the main things you need to do:
1. Ask for sauce on the side – every time (Unless it is a heavy cream sauce made without flour or a lemon butter sauce – if this is the case, the more the better.)
2.  Ask for extra veggies with butter instead of potatoes, pasta, rice, or risotto.
3.  First thing when you arrive – ask your waiter to hold the bread, but bring the butter (real butter) – you may get a funny look, but they will do it!
4.  Order a bottle of wine, a martini, or vodka soda.  Stay away from the sugary cocktails.
5.  Order your salad without crouton or crisps and stay away from sweet dressings.  Blue Cheese, Ranch, and Caesar are generally safe.  It gets dicey with the vinaigrettes.
6.  Read the menu carefully – learn the code words: crispy or coated usually means fried, seasoned could mean sugar so ask.  Crunchy usually means it has something on top, like fried onions, tortilla chips, panko, etc.  Sweet, glazed, or brushed are almost always code for the dreaded SUGAR.  In short, always read the description, and if you are still unsure, ask!
7.  Good things to look for are: grilled, broiled, steamed, seared, baked, and sautéed.  Savory is usually good, and seasoned is often good as long as the seasoning does not contain sugar.
8.  At the end of the meal, refrain from looking at the dessert menu.  Too much temptation.  Ask for a decaf with heavy cream if you need a little something while your friends order dessert.  They won't be used to the heavy cream order, but almost any good kitchen has cream, so ask the waiter to check the kitchen.
I promise it is really easy after you get used to ordering Keto.  Restaurants are starting to have more gluten free dishes (I just ate at one that had a gluten-free menu – remember though that gluten-free doesn't mean carb-free), and many are used to patrons ordering low-carb.  Most of all, don't be afraid to ask questions.  It is not about weight at this point, it is about your health!
Good places to start are:
Bar-B-Que Restaurants (Have all the meat you want, but watch the sauce and sides)
Steak Restaurants (Steak is great – order with Béarnaise and side salad and veggies – skip the potatoes)
Seafood Restaurants (Shrimp and Fish are great – Add lemon butter and it's even better)
---
Here are a few pictures of meals we have ordered out to give you some ideas:
Both dishes below were from Houston Street Bistro.  They were wonderful about substituting the pasta that was supposed to be served with each dish with vegetables instead.  The shrimp is in a lemon butter sauce with broccoli and carrots.  The chicken and mushroom dish is in a flourless cream sauce served with a side of spinach instead of over pasta.
These next three are all from different restaurants.
 The first is a high-end restaurant that had calf liver on the specials menu (a top Keto food) and to top it off, it had sauted onion and BACON!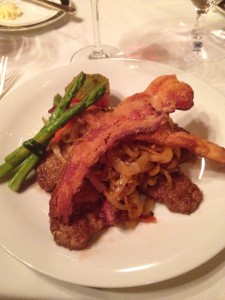 This is a cup of beanless chili from a local delicatessen.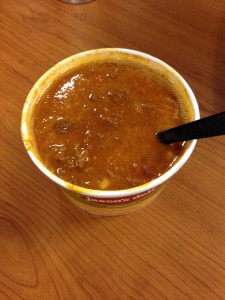 Beef Cheeks from a local restaurant.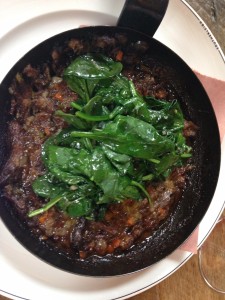 This was a fantastic meal from Silo – Lamb with veggies, and they even brought hollandaise on the side.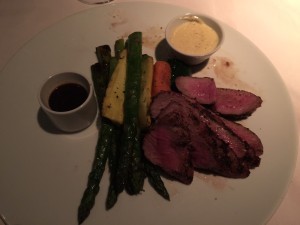 Hopefully these give you some ideas of how easy it is to order a delicious meal out on the town!  Have a great weekend!