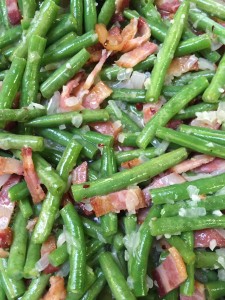 Just about everything is better with BACON!  It is definitely a staple in our house.  We can eat it for breakfast, lunch, and dinner!
Here is an example of eating bacon for dinner; one of many ways!  On days when I make my sheets of bacon, I try to make use of my bacon drippings by doing a dish that requires bacon AND oil.
I mean, really, what isn't satisfyingly delicious when you cook it in bacon grease?
My Bacon Green Beans are a hit with the whole family!
Start with your sheets of bacon.  I usually try to do two to three cookie sheets of bacon at the beginning of the week.  Search for my bacon blog if you missed it!
Bake a foil lined cookie sheet of bacon on 350 to 375 for 15 minutes.  DO NOT discard your bacon drippings!  Please!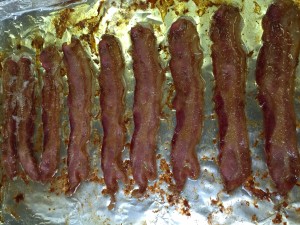 You can keep going with your bacon on the same sheet to get more drippings (and more bacon).
Meanwhile, prepare your ingredients:
Wash and trim about 2 pounds of green beans.  Set aside.
Chop finely, 1 cup of white onion.
Using a garlic press, mince 5-6 cloves of garlic.  I love, love, love my garlic chopper!  You can find one here, and chop all of your cloves at one time!  My favorite kitchen tool!
Squeeze the juice of 1 lemon into a small bowl, discarding seeds.
Chop your bacon, and get your seasonings: crushed red pepper, black pepper, and Celtic or Himalayan salt.  Parmesan cheese if desired.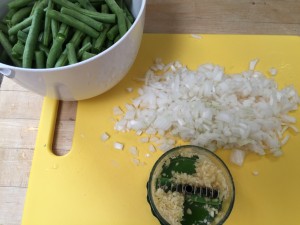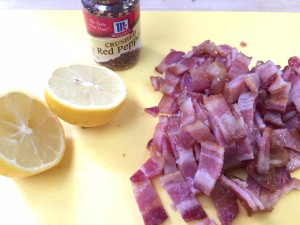 Saute your onion and garlic in your bacon drippings until translucent.
Add your green beans: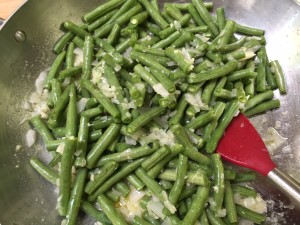 Once your green beans are slightly tender, but still crisp, add your bacon, lemon and seasonings.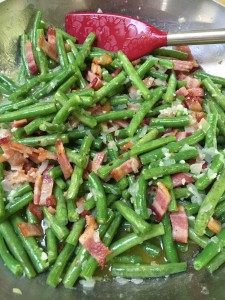 End with a sprinkle of parmesan cheese across the top!  I usually do this step on individual plates.
It's that easy for a gorgeous, colorful, and delicious side that the whole family will enjoy.

To find items that we use in our posts, such as the All Clad sauté pan, the silicone spatulas and spoons, and cookie sheets, check out our new Amazon store here.