Monday is usually my HEB run for standard groceries.  I thought I would share what I bought for the next few days, and explain how I am going to use everything!
1.  Apple Cider Vinegar –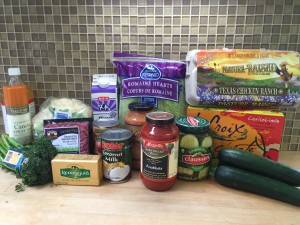 I ran out yesterday experimenting with my Keto Bar-B-Que sauce I hope to share soon.  It is always in the pantry!
2.  Coconut Oil Spray – I noticed today there are two different versions on the shelf.  The new one I purchased today is for high-heat cooking which is mainly what it is used for, so I am going to give it a try!
3.  Broccolini and Kerry Gold- This is one of our favorite veggies to have on the side!  Pile on some of the Kerry Gold to make it even better!
4.  Grass Fed Ground Meat – I plan to make cheese stuffed "Spaghetti" and Meatballs!  Yum!
5.  Heavy Whipping Cream – Always in the house for coffee, tea, eggs, sauces, and whipped cream mixed with Swerve!  Double yum!
6.  Organic tomato sauce – Also used up yesterday for my Bar-B-Que sauce.  I keep it stocked in the pantry.
7.  Coconut Milk – Used for a yummy curry Indian dish this week – make sure you buy the full fat!  Another pantry staple!
8.  Cauliflower – I am ricing the cauliflower to serve with my Indian Curry dish.
9.  Spaghetti Sauce – I bet you can figure this one out…It's for the meatballs!  I couldn't decide which one to use though..The one in the back is a new Vodka Cream sauce that was super low in sugar and carbs.  I will have to report back on the consensus.
10. Romaine lettuce – A staple for the fridge.  We love Blue Cheese and Caesar dressing topped with bacon, and salad pretty much goes with everything, right?
11.  Pickles (Dill) – There are a few brands we like, but these are the kid's favorite, and they don't have the artificial yellow food coloring that so many others have that can contribute to hyperactivity in children.
12. Pasture-Raised Eggs – These are in the basket on every trip!  We eat a lot of eggs!
13. La Croix – My sister-in-law introduced me to this flavor of sparkling water, and I'm hooked.  Sometimes you just need a little zing to your water, and this fits the bill!
14.  Zucchini – ON SALE at HEB right now!  Run and get some!  We use so much of this stuff because it is so versatile!  I bought two full bags of this yummy and healthy squash.  This will be used for the "Spaghetti".  I'm so excited to share it with you later this week!
As I use some of these ingredients I will post "after" pictures to show you the end result!
Happy Monday!!!