I Want Crackers!
That's what I heard on Friday!  My kids wanted crackers, and honestly it sounded pretty good to me too.  What to do when you want a high-carb snack on a low-carb diet?  Get creative!
We were already planning on having fajitas, minus the tortilla, for dinner which meant guacamole was on the menu. What is better than plain old guacamole?  Guacamole with cheese!  What a way to Keto up guacamole – cheese, cheese, and more cheese!  And, maybe some jalapenos!
This time of year, with the end of school, planning summer vacations, packing for camps, attending recitals, baseball games, graduations, ceremonies, parties, and planning fundraisers, (Whew – makes me tired just typing about it!) we are all exhausted and out of time!  I promise this is easy, and look how delicious!!!!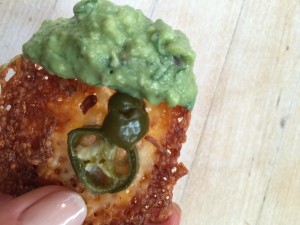 Cheese Crackers
First line a cookie sheet with Parchment Paper – Very Important!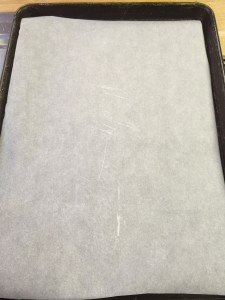 Start with shredded cheese.  Any kind will work – whether you buy it shredded or shred it finely yourself.  I used a Cheddar and Monterey Jack blend. Use your favorite!
Make little circles of cheese and press down so it forms a "cheese pancake".  Don't make them too thick or they will not crisp.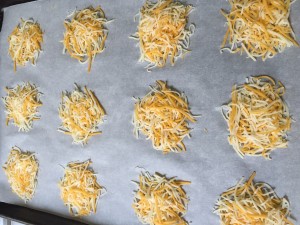 If you want a little spice, add a sliced jalapeño to the middle, and press into the cheese.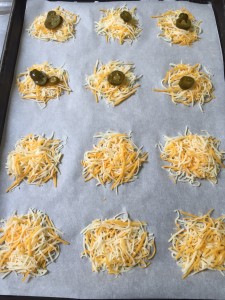 That's it!  Bake in the oven at 350 degrees for 10 minutes.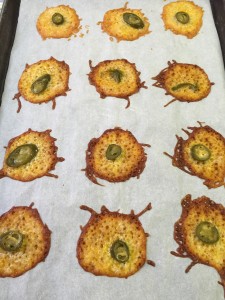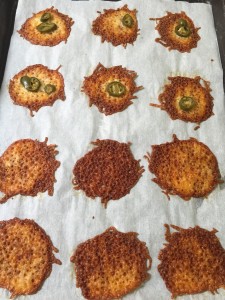 Allow the "crackers" to cool so they crisp nicely.  Then, enjoy your carb-free snack with your favorite dip or eat them plain!  I made two cookie sheets, and they were devoured before dinner!