Refreshing Cukes!

Last week, a friend of mine showed up at my door with a trash bag full of homegrown cucumbers.  He had grown them at his office, and thought I could use them since he knows I like to cook.  I had never seen so many cucumbers, and I honestly didn't have a clue what to do with them.   My husband LOVES cucumbers, so I knew I needed to find something quickly!  I couldn't let these go to waste!  The search began…
Look at these things…I had never seen anything like them before!  They were the largest Japanese Cucumbers I had ever seen!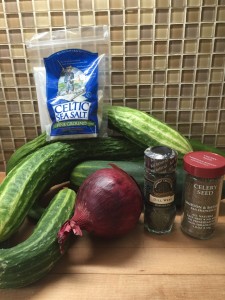 As you can see, these are huge!
I searched around through cookbooks and on the web.  I didn't find anything that shouted out at me, but I combined a few recipes, changed out the sugar, and came up with a winner!  They haven't even finished marinating, and my son said, "These are amazing…Dad is going to love them…This is my new favorite snack."
So those of you looking for snack ideas, I have a new one!
You will need:
5-6 Cucumbers (I used 4 of these huge ones, so thinking this is the equivalent)
2 1/2 cups White Vinegar
1 Red Onion
1 Cup Xylitol or Sugar Substitute of Choice (See note at bottom)
2 tsp Celtic Salt
1 tsp Celery Seed
1 tsp Dried Dill
Directions:
In a saucepan, combine your vinegar, salt, and sweetener.  Over medium heat, (it's gonna stink), heat your vinegar until your "sugar" and salt dissolves.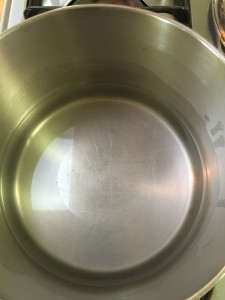 Remove from heat, and add your celery seed and dill weed.  Allow to cool a little and place in the refrigerator to cool completely.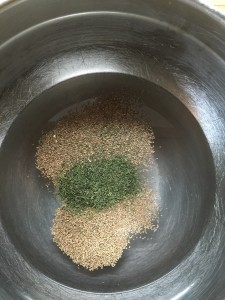 While your marinade is cooling, slice your cucumbers in a mandoline.  I love my De Buyer!  If you don't have a mandoline, what are you waiting for?  It makes life so much easier!  I bought mine at Williams Sonoma, but you can get yours here too.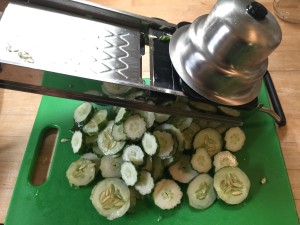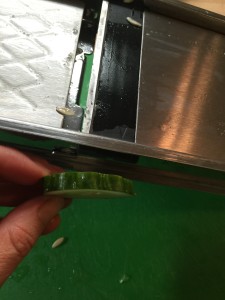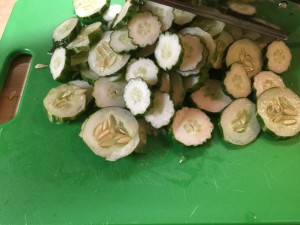 I did adjust my mandoline for thicker slices.  I had it set from the zucchini last week, but these needed to be a bit thicker.
Also, slice your red onion into thin rings.  Place your cucumbers and red onion slices in a bowl.
Once you have everything sliced and your marinade is cold, you can pour your marinade over your cucumber and onion.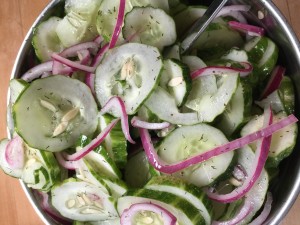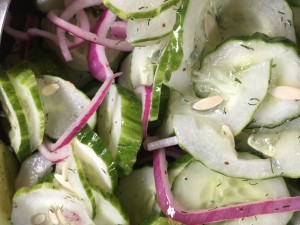 Toss everything together until lightly coated.  Cover with Saran and place in your refrigerator overnight.  At this point you can't even see the liquid, but just wait!
This is what it looks like in the morning: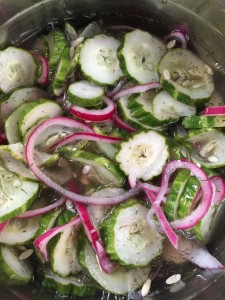 Everything is soaking in the juices!  Yum!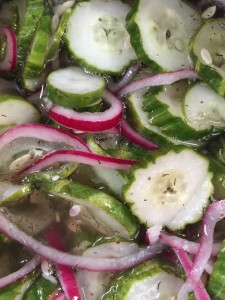 Let it sit and soak up the deliciousness for 24 to 48 hours!  Enjoy as a snack, a salad, or a side dish!  I am thinking ahead to the July 4th holiday!!!
A note on Xylitol:  You don't see us using this one very often.  The reason I did on this dish was because it was a cold marinade that also had to be heated so I thought it would work best.  There are many that love Xylitol, and there is nothing wrong with it from a Keto standpoint.  I have two cautions on it though:
1.  It is extremely toxic for dogs!  Keep it away from animals.
2.  It can cause stomach discomfort in a few.
For the quantity of liquid in these in relation to the amount of cucumbers, I did not think it would have much effect since we are not consuming the liquid on it's own.
If you try different sweeteners or have a different variation on this recipe, we would love to hear about it in the comments section!