Makin' Bacon!
Do you need a bunch of bacon? Or maybe just enough to feed the fam on a Saturday morning?
Have you thought about doing it the oven?
Here is a quick and easy way to get your bacon cooked, and you can do as much or as little as you would like. PLUS, you will also be able to get a good amount of bacon grease for any other dishes you may be working on later in the day.
Cookie Sheet Bacon
Preheat your oven to 375 degrees.
Line a cookie sheet with sides (jelly roll pan) with heavy duty aluminum foil.
Lay your bacon out without the sides touching.  I can usually get 10 to 12 pieces on a sheet.
The cooking time really depends on how thick your bacon is, how you are going to use it, and how cooked you like it!  If you are going to keep cooking it in another dish, I do it par-baked which just means I remove it before it is thoroughly cooked through.
I use pretty thick bacon and usually cook it about 20 minutes.  For thinner bacon, start checking it at about 12 to 14 minutes.
This is about 20 minutes for thick bacon: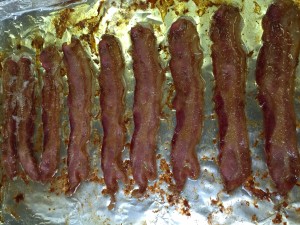 Remove your bacon to a paper towel lined plate to drain and crisp.
Do not discard your drippings.  I almost always try to make a dish using the bacon drippings the day I make bacon such as the Bacon Brussels or Bacon Green Beans.  If I am not cooking a dish, I save the drippings in a mason jar.  (Yes, just like Grandma used to save hers!)  Make sure you strain the bits out if you are using a jar – I use bits and all when preparing a dish the same night.
I reuse the tray over and over until I have enough bacon (and drippings) for my immediate and future bacon needs!  Then, when you are finished, drain your drippings and toss the foil!