Christmas Morning Traditions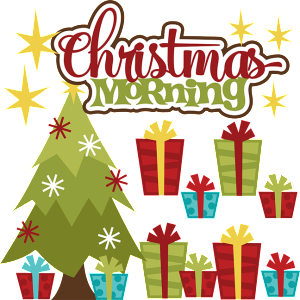 It is hard to believe that Christmas is only a week away.  We are all busy preparing for the day, and I have had questions about what to serve for Christmas morning breakfast.  Growing up, we always had the same thing.  We started with grapefruit that my grandfather bought at the produce market.  Then, we moved on to breakfast casserole and either coffee cake or cinnamon roles.  I carried on this tradition with my own family, but need to revamp the pastry portion.
You can always make the breakfast casserole which is a favorite around here!  Check out that recipe here.  You can use any meat…bacon, chorizo, crumbled browned breakfast sausage or grilled links.  They are all delicious.  You can use many breakfast casserole recipes.  Just swap out the milk for cream and do not add any bread.  I promise it will cook just as well.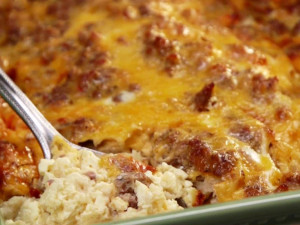 Now for the pastry!  I have dabbled around with a few recipes, and we have found a winner for a special occasion.  It takes a little time, and is a little different, but it turned out "amazing", and that quote is coming from the kiddos!  I hope you enjoy it!
Cream Cheese Coffee Cake
Crust:
2 cups almond flour
2 T coconut flour
3 T Swerve granular
6 T butter softened
6 egg white whipped very stiff (you want those mountain tops)
1/4 tsp salt
1 tsp baking powder
1 tsp xanthan gum
Filling:
12 oz cream cheese
3/4 cup Swerve confectioners
1 egg
2 tsp vanilla extract
Topping:
1 1/2 tsp ground cinnamon
1/4 cup Swerve granular
2-3 T melted butter
Instructions:
Preheat oven to 350 degrees.
Combine all your dry crust ingredients: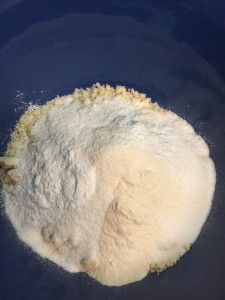 Cut in your butter: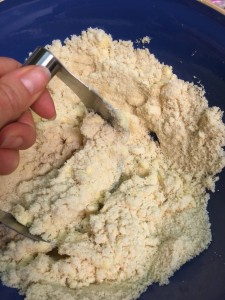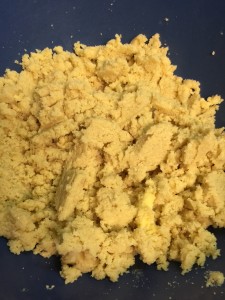 Meanwhile, beat your egg whites: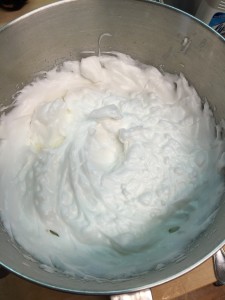 They should be very stiff!
Once beaten, fold in your eggs whites.  Losing the volume is normal as you fold, but be gentle.  You want it even and fluffy.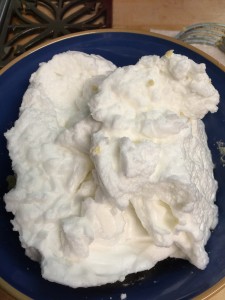 Place half of your "dough" in a parchment lined 8×8 pyrex or other baking dish.
Bake for 10 minutes, just until it is slightly firm.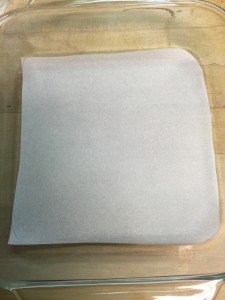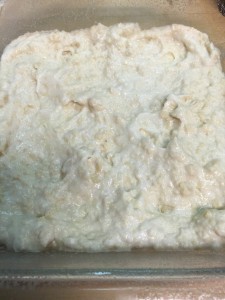 To prepare your filling:
Combine your softened cream cheese, vanilla and Swerve. Beat until it is smooth and creamy.
After your crust has baked 10 minutes, remove and let cool for 5 minutes.
Spread your cream cheese filling on top of your crust.
Then add the rest of your "dough" and smooth over the top.
Finally, sprinkle the cinnamon sugar topping over the dough, and drizzle the butter over the top.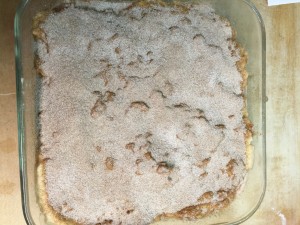 Bake at 350 for 30 to 40 minutes until you have a deep golden brown crust.  It should get dark and crispy.  The "sugar" will caramelize!  YUM!!!!
Let cool for 30 minutes before serving or it can sit overnight at room temperature.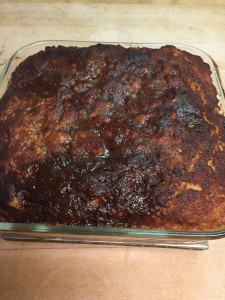 Slice and serve!
Just as a note, we will be taking the next two weeks off to spend time with our families.  We wish you each a safe, joyous, and blessed Christmas filled with lasting memories, new family traditions, and most of all, love!  God bless, and Merry Christmas!