When we meet with clients, we most often hear, "Where do I buy that?" and "What can I pack in the kids' lunch boxes?"
These are both very good questions, and ones that we struggled with for quite some time.  Like everyone, we get stuck in our ruts with our favorites, both grocery shopping and lunch planning.
I have posted before about Costco, but after the children started back at school, I decided to go on a little adventure at Trader Joe's.  They have some fantastic deals there and some fun and different items.  This is my most recent haul from TJ's: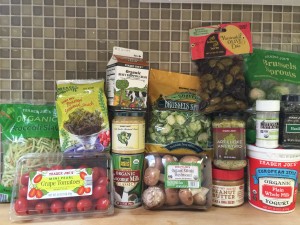 From left to right:
Organic Broccoli Slaw (you can find the recipe on our blog – the dressing is Keto fabulous!), Tomatoes, Seaweed "crackers" (these are great for soft cheeses – just spread and wrap), Coconut Milk, Aioli Garlic Mustard Sauce, Organic Heavy Whipping Cream, Mushrooms, Sliced Brussel Sprouts, Crunchy Salted Peanut Butter with Flax and Chia Seeds (for the kids), Artichoke Antipasto, Marinated Olives, Whole Milk Yogurt, REAL Stevia, Basil (their spices are a bargain), Whole Brussel Sprouts.
The whole reason I went to Trader Joe's was to get our favorite snack though: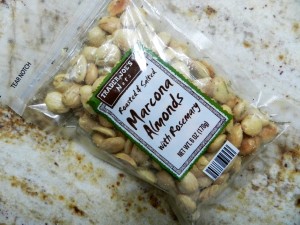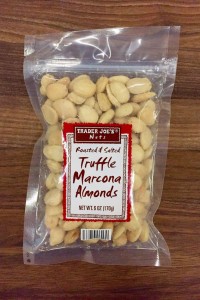 YUM!!!!  The Rosemary are our favorite!!!
Other great finds at TJ's are produce, meats, cheeses – lots of cheeses – we especially like the marinated fresh mozzarella, other nuts and seeds – love the pumpkin and sunflower seeds, other items I have yet to find!  Please share your favorites with us!
All of my kids are back in school!  It is a jolt after a long summer, but we all love to be back in a routine.
Here are our first day shots: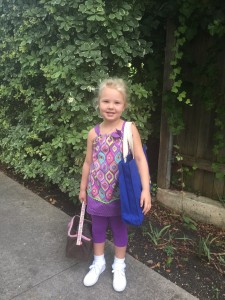 Carolyn is doing her first round of Kinder this year, and loving every minute!  She just turned 5 years old.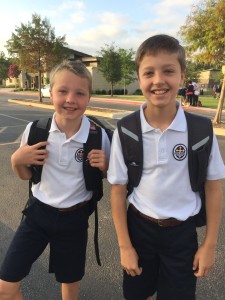 Colton is on the left – he is our middle child (and loves to tell us about it).  He just started third grade, and is 8 years old. Chaz is now in 5th grade (where does the time go?).  He is 10 years old and our most Keto-adapted of the three.
I only share them so that you know, I am, where many of you are, in this adventure and blessing of parenthood.  It is a challenge, but oh so rewarding!  They have adapted very well to our Keto lifestyle, although I do not force it on them when they are not under our roof.  Generally, as their mother, I can control most of what they eat, but it is important to us (my husband and I) that they do not feel singled out, denied or forbidden.  We do not want to create that "forbidden fruit" syndrome where as soon as they are away from us they run to the nearest donut or candy shop.  They know how they feel when they eat healthy, and the they know how they feel when they eat sugar, so we advise – not demand.  Our hope is, that through our constant example, they will learn to make healthy eating decisions on their own.  I have not heard one complaint about the lunch box yet!!!
I thought it would be helpful to share how we have been packing lunch over the past week since we started back to school.
Staples in the lunch box always include:
A Protein – Steak, Fajita Meat, Pepperoni, Salami, Nut Butter, Lettuce Tacos, etc.
Cheese – Mozzarella Cheese Sticks, Baby Bels, Sliced Cheese, Cheese Cubes
Nuts – Mixed Nuts, Cashews, Almonds, Macadamias
A Drink – Milk, Water, Sparkling Water
Other Add-Ins: Olives, Whole Milk Yogurt, Chia Squeeze (a little high in sugar for everyday, but good fiber and a treat for the kiddos), Dark Chocolate (85% or higher), Berries.
Leftovers are great, and often their favorite.
I suggest a quality thermos and decent ice packs.  I always warm the thermos for hot food items by filling the cavity with simmering water for about 5 minutes.  Discard the water and fill with hot food.  It will stay hot until lunch this way.
This is what lunch looked like for my children today: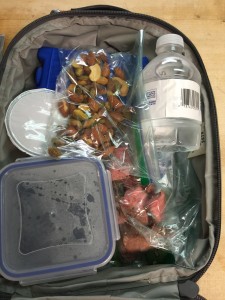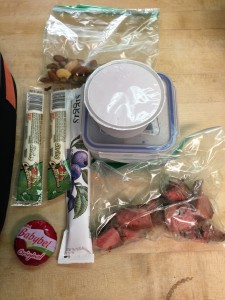 The blue ice pack is on the bottom.  The white foil is a cup of sliced salami, mixed nuts, water, leftover steak, and blackberries.  There is some cheese in there too!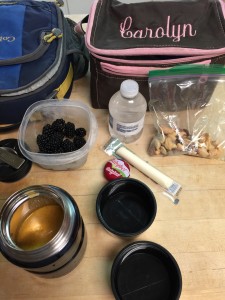 This is the Thermos I use above, and the two types of cheeses I packed.  They will usually eat one for lunch and save the other for snack on the way home.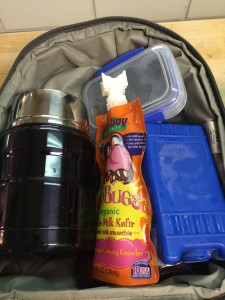 The last of the lunch boxes – this is the whole milk kefir on top (yes – it has added sugar, but is a treat filled with great healthy fat just for the KIDS), blackberries, and yummy hot leftover chicken curry in the thermos!
Each child is a little different, and we are always coming up with new things we like and they like.  Stay connected, and we will try to send out our newest, greatest ideas.  We would love to hear from you too!  What low-sugar healthy foods do your kids love?