So, I was ruled out on my dinner choice this evening!  My husband wanted steak, and the kiddos wanted potatoes.  "Hmmm," I thought to myself.  Let's see if I can slide those cauli-mashers by them without notice.
Worked like a charm!  My super picky four-year old said this was the "best dinner in the world!"  She also told me that "these are the best potatoes ever!"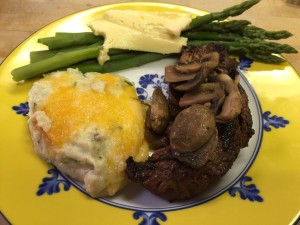 If you missed Erin's post on Cauli-mashers, they are a breeze to make, even when you get outnumbered at the last minute in the kitchen.
I steamed one bag of Costco fresh Cauliflower florets until fairly soft.  I don't have the emersion mixer like Erin, so I just used my KitchenAid hand mixer, and beat them until they were the consistency of mashed potatoes.  I added a half block of Kerrygold, a half block of cream cheese, and a handful of chopped parsley.  I then added a generous amount of salt and pepper.  Mixed it all together with the mixer, poured into an 8×8 pyrex, and topped with some Colby Jack cheese.  I popped it in the oven at 350 degrees for about 20 minutes, and to the delight of everyone, it was devoured.
Served with grass-fed New York Strips topped with sautéed mushrooms (in Kerrygold no less), and a side of asparagus topped with Kerrygold!
Every plate was clean, and every face had a smile!
So my sweet 8 year boy (the middle child) wanted me to share his dessert with you tonight!  He was very proud of his extra helping of steak and his two dark chocolate-coconut fat bombs (posted last week) that he used to make a smiley face!  He said, "This will show your viewers how happy I am right now!"  So, how could I refuse?  Here is Colton's sugar-free dessert!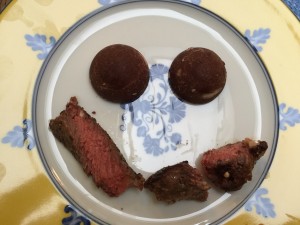 I hope you all have a happy dinner tonight!