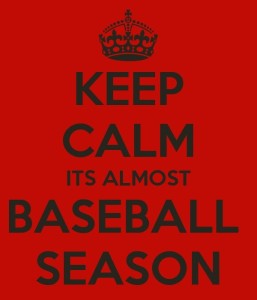 Well life just got super crazy in our house!  We were just getting into the swing of basketball season, and the craziness of baseball season smacked us upside the head.  Little did we know that baseball started the day after the draft and looks to be 7 days a week between the two boys.
Pile that onto 3 ongoing basketball teams and a move!  My head is spinning.  We are regrouping to some very easy, fast meals that can be prepped ahead and thrown into the oven at go time.
This is something I made on a ski trip on the fly so I pulled it out today.  It doesn't get much easier than chicken, sauce and cheese!
Green Enchilada Casserole
2 Chickens or 6 Chicken Leg Quarters
1 jar of 505 Roasted Green Chili Sauce
3 cups Monterrey Jack Cheese
Sour Cream
Hot Sauce
Yes!  It is that easy.  I bought the precooked chicken quarters at Costco (Not the best quality, but as well as I could do in a pinch) and just peeled the chicken.  We prefer the fattier dark meat chicken, but you can also use a rotisserie chicken, chicken breasts or boil or roast a couple of chickens.  I was able to get about 5 -6 cups of chicken out of the Costco pack.  I used 4 in my casserole dish and saved the rest for chicken salad.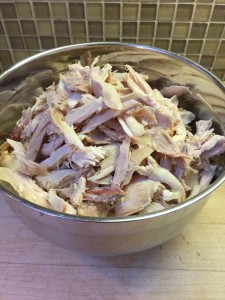 Pile the chicken in your dish and cover with about 2 to 3 cups of the green chili sauce and mix throughout the chicken. (I used 1/2 a large jar)  I even mixed it in the baking dish.
Top with cheese!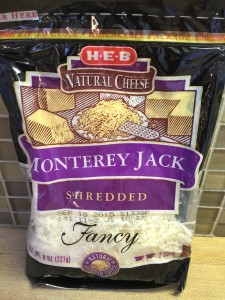 That is it.  Now you can either throw it in the oven or cover and refrigerate until you are ready to cook.
I cooked it on 325 degrees for 45 minutes.  You could do 350 degrees for 30 minutes, but I had carpool and needed the time!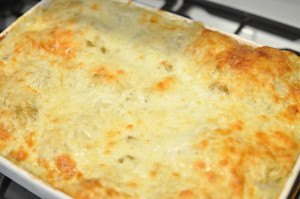 We like to top it with a healthy portion of sour cream, and if you like it spicy, add some hot sauce too.
It goes beautifully with broccoli and Kerrygold.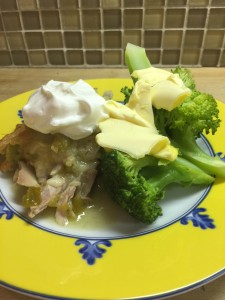 There you have it!  A hot great dish in less than an hour!
Enjoy!