This is a tough week to follow any kind of diet with all the available "party" foods calling to you!  A few tips:
1. Drink a ton of water!
2.  Drink alcohol in moderation and stay away from sugary drinks like (dare I say) Margaritas.  You can, however, make your own with fresh lime juice, tequila and Stevia.  It is super refreshing and does not have any sugar.  Remember though, that your body will process the alcohol first and store your food to be processed last.
3.  Try to get as much sleep as you can.
4.  Eat before you go.  This is a great lunch salad filled with lots of healthy fats to keep you full and fueled for the day.  You could even eat it before your next party.  I used Romaine lettuce, bacon, avocado, and blue cheese dressing.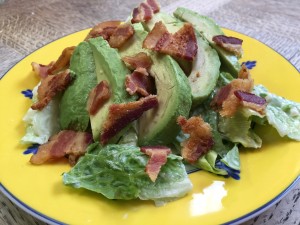 5.  If you eat at the party…stick with your proteins, veggies and fats, i.e…eat the fajita and taco meat with a fork and a side of guacamole and skip the tortilla.  Eat that yummy queso with veggies instead of chips.  Eat the tenderloin with horseradish sauce on the side without the roll.  Fill yourself with water and veggies before you are tempted with the dessert table.
6.  Dance….burn off what you eat!
We hope everyone has a great, safe fiesta filled with fun, friends, family, and delicious REAL foods!