A couple of weekends ago, I made a trip down to our local Farmer's Market in San Antonio at the Pearl Brewery.  I have been wanting to to go for months to pick up some fresh eggs, but something always seems to get in the way – usually the kiddo's sports games:-).
I finally had the opportunity at the end of June, and I was not disappointed.  I grabbed my two youngest, yanking them away from their iPad screens almost kicking and screaming, strapped them into the car, and off we went!
As soon as we got there, my son looked at me and said, "Wow!  This isn't what I expected! It is like a carnival."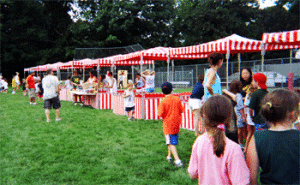 I have to admit, he wasn't too far off.  It was much larger than I remembered from a few years ago.  It is very nicely set up, and there were many foods and vendors from which to choose along with music, an information booth, and LOTS of dogs!
I highly recommend going (EARLY) if you have the chance.  I say early because when we arrived around 9:30 there were many options and plenty of stock.  By the time we left at noon, after seeing everything, I was scraping at the remnants of what was left.  I saw there was plenty when we arrived so I didn't see the need to purchase anything right in the beginning just to carry it around with us.  My recommendation would be to take a cooler, buy as you go, and then stash your items in the car so you can keep shopping and grazing.
And grazing you can go!  My children tasted everything there you could possibly taste!  Look at these happy kiddos!  These do not look like the same children I tortured by pulling them away from their electronics!  These are my happy children.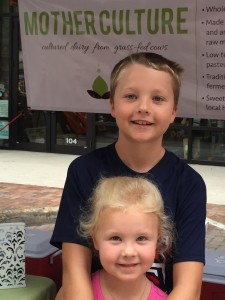 Of course, what is not to like after you have just tasted fresh Greek yogurt from grass-fed cows.  There was no more kicking and screaming.  After a bite of yogurt and some tasty cheese, they asked me if they could come back every weekend.
Like I said, I went for eggs, and there were many suppliers for eggs.  The supplier that I liked the most after talking about the hens only had 2 dozen left at noon so I cleaned him out.  Next time, that will be my first stop!
While I was in the Wholesome Harvest Farms booth getting my eggs, I picked up some delicious yellow squash as well, to make my yummy squash casserole!
The kids favorite booths were the ones with the yogurt and the many artisan cheeses.  They were delicious.  All were made with milk from grass-fed cows.  You can't go wrong with those nutrients.  Even though I don't eat yogurt, I certainly let my children eat this fresh one made with all fresh ingredients.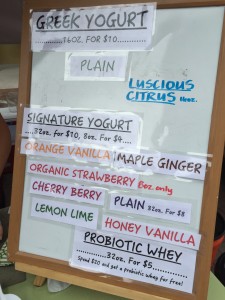 Right next door was the cheese lady.  Her products were amazing, and the milk was from a farm in Schulenburg, Texas.  Supposedly the best milk in the Lone Star State coming from Jersey Cows that graze the green grass of our great state!  We bought two of the four flavors and they are devine.  My favorite is the black pepper, but the other one was a cumin flavor that was also out of this world!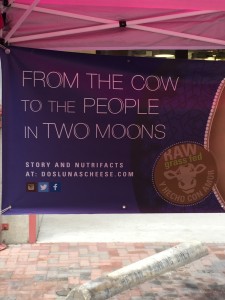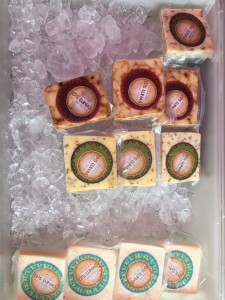 We hopped across to the goat milk people and purchased some jalapeño and artichoke cheese made from goat's milk that is just incredible!  So fresh and smooth.  I spread it on some parmesan crisps for a crunchy snack.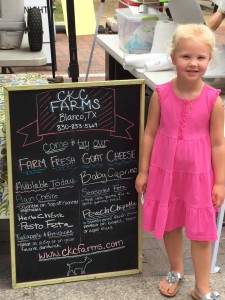 Moving on, we made it around to the mushroom farmers!  This may be the best yet, but oh how hard to judge.  I bought some portobellos and white mushrooms, all of which I used for stuffing!  Amazing!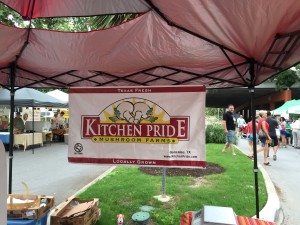 Then on to the meat…Pork and Beef.  There were two pork ranchers, both of which were organic and grass-fed.  The one lady I spoke with seemed to know all about the different farmers and ranchers at the farmer's market so she gave me some tips, and I purchased from her.  I ended up going with some pork belly.  I had never cooked the pork belly before, but have loved it as a delicacy in restaurants.  It fulfills our fat intake necessity, and actually turned out pretty yummy.  It is almost impossible to find except directly from those who raise pigs so this was the place to find it.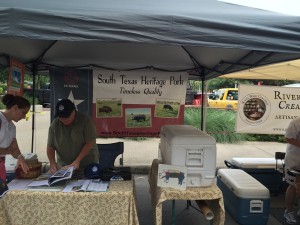 Then, on to beef!  I found three vendors, and referred to my nice new friend at the pork booth.  She recommended one cattle ranch that has been owned by the same family for generations.  The meat was fantastic.  It was pricey, but worth it!  I purchased some steaks and some ground beef that were all devoured.
We also did buy some beef sticks and dried sausage from one other cattle rancher that the boys ate in no time for a quick snack.  Those beef sticks are one of their very favorite snacks!
When it was time to go, we still had lots of smiles, and a request to return every weekend!  If not for all the samples, just to watch the puppies tour around the market.  There were many.  This was a great outing not only for healthy food, but for family togetherness – away from those mesmerizing flat screens.  I actually got to see my children enjoy each other, nature, great food, and a little culture all mixed in together.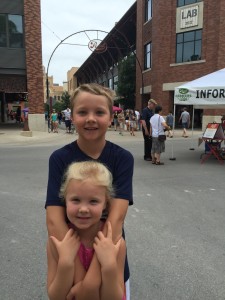 If you have a chance, try to get out to your local market on a weekend.  It is quite an experience and a great haul at the same time!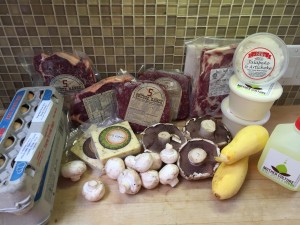 Happy Friday!