We all need a little treat every once in a while!  Even on Keto, you can make treats that will actually help with weight loss and your desire to stay in Ketosis.  We all usually need to up our fat intake.  Some recipes are easy, and some require effort.  Today's post is super simple, and was my go-to when I first started on the Ketogenic diet and just needed that little "something".  It is loaded with saturated animal fat (this is good), smooth, creamy, and has just the right amount of sweetness to end a busy day.  And…it is so filling – you just need a tad, and you won't have the urge to eat another thing!  The kids beg for it after dinner, and I usually oblige, sometimes selfishly, so I can have a bite too.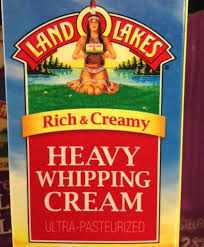 The Keto part of this is simple…Heavy Whipping Cream!  I will say that this is where a KitchenAid Stand mixer comes in very handy.  Check out the one I have here.  It is a nice gift to yourself if you don't already have one, and makes life faster and easier in the kitchen.  I usually get my cream going while I am washing dinner dishes, and we have a fresh dessert in no time.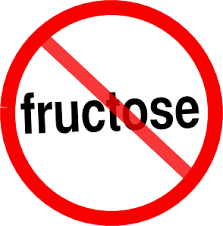 On a Ketogenic diet, we recommend staying away from many fruits. This is due to the natural fructose in fruit that makes a b-line for your liver.  It is especially bad for Cancer patients and those with insulin resistance…Read more in this great article!  However, there are some fruits that are better than others.  My favorite fruits have always been berries!  Thank goodness, because they also contain lower amounts of fructose which can spike your blood sugar.  I know there is a lot of controversy on this subject, but I have seen it first hand with blood glucose monitoring, so I am on the no/low fruit bandwagon for myself.  I do allow my children to have organic berries, and on occasion, I do too in small quantities.  The trick for doing this is to make sure you eat your berries with plenty of fat to counteract the fructose in the fruit.  Hence, the whipping cream.
What is better in whipped cream than berries.  Yum!  Now, don't go crazy!  You just need a small handful to do the job.  Summer and berries have always gone hand in hand, so this is the perfect season to make yourself a Keto friendly dessert!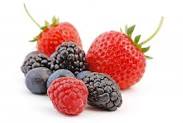 It is probably the easiest thing I have posted…
I used:
1 Quart of Promised Land Heavy Whipping Cream (Any will work)
1 Tbsp Pure Vanilla
1/4 – 1/2 cup Swerve Confectioners (Granular is very grainy in this one.)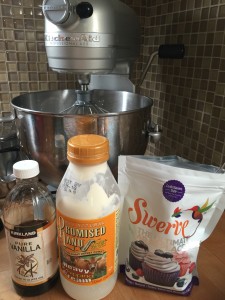 Start by beating your cream until it begins to thicken.  Add your Swerve, starting with 1/4 cup.  Our taste has changed quite a bit, so that we do not prefer things super sweet anymore, but feel free to add more to your desired taste.  Then add your vanilla.  Beat until it is very thick, but careful not to beat too much or you will have butter!  It is okay to stop and start (tasting as you go).  This is a preference treat, so keep an eye on it, and stop beating when it's to your liking.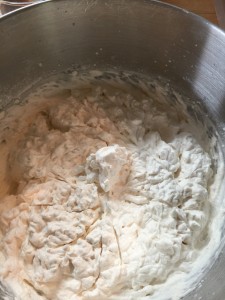 Top with a small amount of berries or eat it plain.  It is delicious both ways!  Enjoy!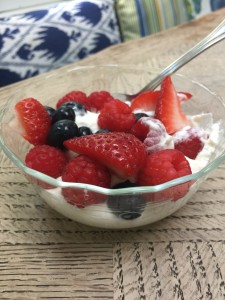 This one was for the kiddos.  When I have mine, I go with blueberries, blackberries or raspberries with a ratio or 2:1, cream to berries.  I skip the strawberries generally.  Let the cream work to your benefit!