I had some grass-fed ground beef and bell peppers in my fridge that I needed to use.  I decided to combine the two for some fabulous stuffed bell peppers!  They turned out fabulous so I just had to share.  This was a great main course.  Save your carbs for this one because the veggies are a little higher in carbs than most of our recipes, but it is a super healthy way to combine your veggies and protein for a fairly easy meal.  I changed out the cheese in the picture for mozzarella and it was excellent.
Start with all your ingredients: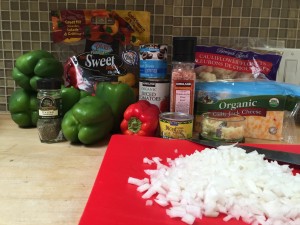 6 Bell Peppers
1 1/2 lb Grass-Fed Ground Meat
1/2 Onion finely chopped
5 cloves of garlic minced
1 1/2 tsp Italian Seasoning
16 oz can of Organic diced tomatoes
1 can of organic tomato paste
1/2 cup sweet peppers
1 small can of diced black olives
1/2 cup cauliflower rice (recipe on site – this is a great binder)
Colby Jack cheese or Mozzarella cheese
Salt and Pepper to taste
Directions:
Brown your ground meat.  Add your onion, garlic, and chopped sweet peppers to soften.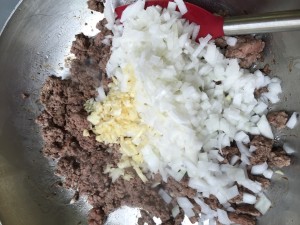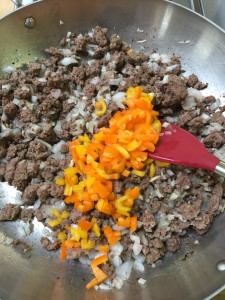 There are a few ways to cut your peppers.  For more stuffing, you want to cut off the stemmed top and leave the rest of the pepper.  Cutting them in half also works for a smaller portion – you just don't eat the stem.  This is what I do for my children because they just eat the meat and cheese out of the center anyway.  I did both of these with the green peppers.  You can also cut them in half lengthwise and use both halves.  This is what I did for the red peppers.
Make sure you wash well – remove the stem if you are not using both halves.  Remove the seeds and the membranes on the inside of the pepper.
In a large pot of simmering water, place your clean peppers and simmer for about 5 minutes until just barely softened.  This will take away a little of the bitterness.  Set aside.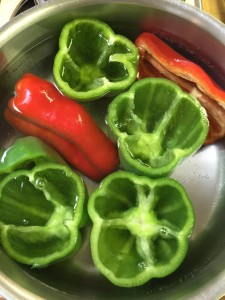 Back to the meat…add all your remaining ingredients except for the cheese.  Feel free to add spices and other ingredients to your liking or subtract those you don't care for.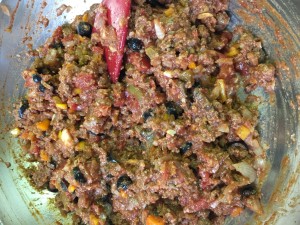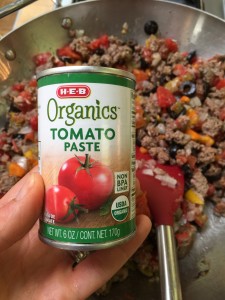 Now scoop out your mixture and stuff inside your peppers.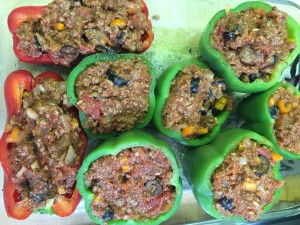 Top with cheese, and bake at 350 degrees for 30 minutes.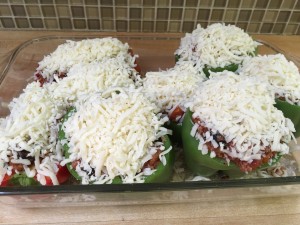 We served ours with stuffed mushrooms – I was obviously on a stuffing kick!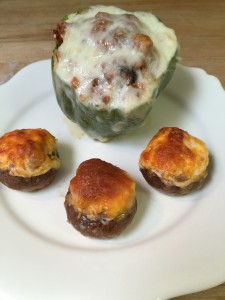 Enjoy!