Yesterday, Erin posted about air travel, and relatives or friends preparing for your visit.  Summer also means road trips, and we do quite a few!  The Lutz clan just returned from the Texas coast.  I knew after a busy school year, that I wanted it to be a relaxing time for the family.  As much as I love to cook, I didn't want to be running upstairs, while the rest of the family played in the pool, just to start dinner.  I also know that my kitchen at home is much more stocked than any vacation home on the planet – and I am not one that likes to be without my kitchen tools.  It is just so much faster and more efficient to have the right tools!  You can find many of the tools we use in our store.  The best thing to do is prepare in advance!!!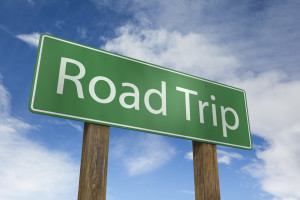 There are a few staples we always take along with us (coconut oil, a spinner, cream, eggs, and Kerrygold), and several meals that are easy to prepare and freeze for easy travel that have become our "summer road trip meals".  It takes a little planning, but it is totally worth it, to prep some food before you go.  I start making a list about a week before we leave, so I can do my grocery runs and start prepping!  A few of the things I did before we left were:
1. Spiraled some zucchini for noodles, and packed in a airtight container.  Spaghetti is a super easy meal to throw together in a pinch.  I took some precooked sausage that I boiled to throw on top with my favorite low-carb pasta sauce.  Normally, I would top with shredded mozzarella or parmesan, but I forgot the shredded cheese.  We did have string cheese, so for those that wanted cheese atop their spaghetti, I just pulled some strings off the string cheese.  Along with a salad, topped with avocado, we had a meal in a flash.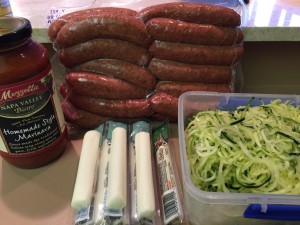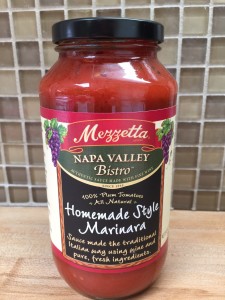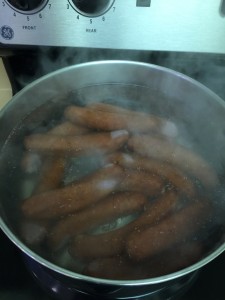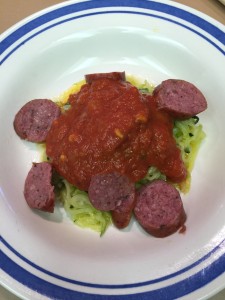 2.  I used my Cuisinart to make Cauliflower rice in about 2 minutes.  I put it in a Ziplock bag as flat as possible for easy packing, and freeze.  This freezes so well, and then all you have to do is defrost, throw on a cookie sheet for about 25 minutes and you have rice ready to go.  Serve with fish (you catch) or I used a chicken curry and broccolini that I had in the fridge.  Another well-balanced meal!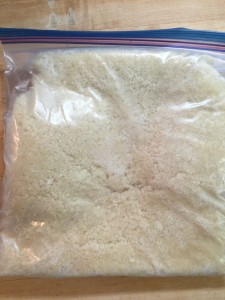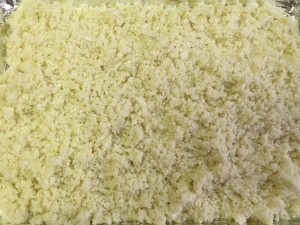 3.  Pack those frozen casseroles you have made when you have extra ingredients.  I had a frozen zucchini lasagna made from extra ingredients when I made one recently for dinner.  Defrost, throw in the oven, and dinner is ready in 40 minutes – no cooking or dirty dishes!
One trick I use for freezing is to line an 8×8 pyrex with heavy duty foil before I start layering lasagna or any other casserole.  I wrap it up and freeze in the dish.   Once frozen, I lift the whole thing out of the Pyrex and wrap in Saran very well.  Now you have a brick of food that is easy to pack in the ice chest and don't risk leaving your dish away from home.  When you are ready to cook it, remove the plastic wrap and defrost in an 8×8 dish.  Almost any condo or vacation home has an 8×8 pyrex or metal pan I have noticed.  You can cook it in the foil in which it was wrapped.  Check out this link at Southern Living for step by step freezing directions.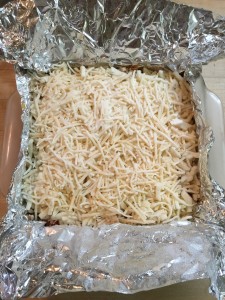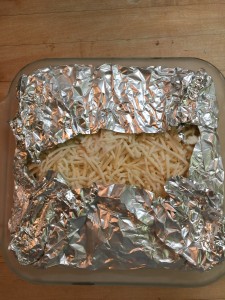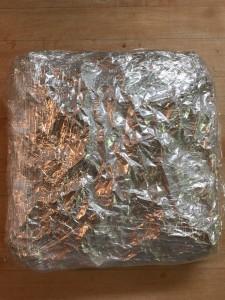 4. Another easy meal is precooked Bar-B-Que.  I bought a precooked whole brisket which gave us dinner, a few lunches and dinner ready to microwave when we returned home.  My trick for this is easy – save your bacon grease from breakfast when you cook on a foil lined cookie sheet.  Yes!  You can leave it out all day – I promise it will be fine!  I plop that slab of meat in the grease, wrap it in extra foil, and you will have the juiciest pre-cooked meat you can imagine.  I shredded cabbage before I left home and cooked it with bacon, onion and garlic.  Store in an airtight container, and this re-heats better than any other veggie and is so good for you.  We will be sharing this recipe soon!  It is an excellent accompaniment to Bar-B-Que.  This is the shredded cabbage before I cooked it!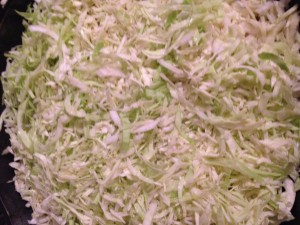 5.  I made another casserole that I had in the freezer that was similar to Chicken Divan like most of our mothers used to make.  It's the one with chicken, broccoli and cheese in a creamy curry sauce.  The original recipe is almost Keto, but I change out the canned soups for more mayo, lemon, broth, and cream.  Top with lots of cheese and you have a winner, winner, chicken dinner.  I always serve with a side salad.  Add the avocado my friends!
6.  Generally we have scrambled or poached (yes, I take my poacher) eggs and bacon for breakfast.  Check out our amazon store to see my poacher.  Sometimes I mix in chorizo with the scrambled eggs to change it up.  Last time I made a quiche at home, my kids requested ham and cheese, so I decided to do this ahead since the boys were playing golf early the next morning.  It made for a quick breakfast with no clean up.  I sprayed a casserole dish with Coconut Oil spray, cubed some ham, topped with cheddar cheese, and mixed 8 eggs with 1 1/2 cups of cream and garlic salt and pepper (go light on the salt for once on this one because the ham and cheese are already salty.)  Poor the egg mixture over the ham and cheese and store in the fridge overnight topped with saran.  In the morning when everyone is rising, remove the saran and pop it in the oven at 350 degrees for about an hour.  This gave us two easy morning meals that were very filling, and the kids gobbled it up!
7.  We had tons of left-overs at this point, so we served buffet style one night, and also at lunch if we weren't making lettuce wraps for the beach.
8.  We always eat out one night for some fresh fish.  It just happened to be Snapper season, so my husband and I both started with peel 'em and eat 'em shrimp, and ordered the Snapper Special at Seafood and Spaghetti Works that was fantastic.  It was blackened in butter and topped with sliced avocado and a crabmeat pico de gallo.  It was amazing, and it could not have been more Keto.  Once you learn to eat Keto, it really becomes easy to eat out.  See our tips in our eating out post.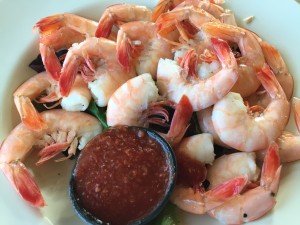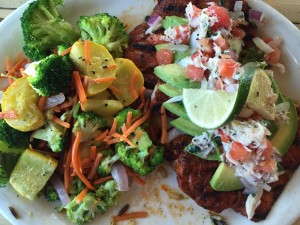 Isn't that beautiful?  REAL food is just awesome!  These are the foods that were designed to  fuel our human bodies.
As you can see, I really did no cooking at all for seven nights.  It was all reheating, and I had a healthy dinner ready every night with less than 20 minutes of prep time.  I literally prepped dinner and set the table while the children were bathing each night!
If you want a relaxing vacation with your family, plan ahead!  It is so worth it when you can prepare dinner in a flash while the family is winding down from a fun day in the sun. (Wear your sunscreen!)
We all hope everyone has a safe, fun, relaxing summer filled with memory making vacations!