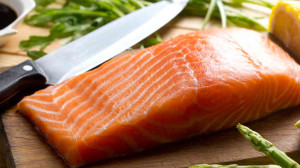 The amazing world of Salmon!
First a little research, and then a great recipe the family will love!
We all know about the amazing omega-3 benefits of salmon, but there are other unique health benefits from salmon that may have been inadvertently overlooked. One fascinating new area of health benefits involves the protein and amino acid content of salmon. Several recent studies have found that salmon contains small bioactive protein molecules (called bioactive peptides) that may provide special support for joint cartilage, insulin effectiveness, and control of inflammation in the digestive tract. One particular bioactive peptide called calcitonin (sCT) has been of special interest in these studies. The reason is because a human form of calcitonin is made by the thyroid gland, and we know that it is a key hormone for helping regulate and stabilize the balance of collagen and minerals in the bone and surrounding tissue. As researchers learn more and more about salmon peptides—including sCT—we expect to see more and more potential health benefits discovered related to inflammation, including inflammation of the joints.
Salmon is also filled with plenty of B vitamins, Vitamin D, Selenium, Iodine, and of course, the great Omega 3!  It is a great protein to help regulate thyroid imbalances with all of its wonderful nutrients.
Half of my family loves broiled salmon, and the other half will only eat it every now and again.  I pulled out an old recipe that my mom and grandmother used to make on a regular basis, made a few changes, and received a lot of compliments.  This recipe brought everyone together tonight, so I had to share. Not only was it tasty, but it is a great fast weeknight recipe.
Baked Salmon Croquettes
1/2 White Onion Chopped
3/4 Chopped Green Pepper
10 Tbsp Kerrygold Butter
30 oz Canned Wild Caught Salmon, Drained and Flaked
1 can Evaporated Milk
1/3 cup Heavy Cream
1 tsp Himalayan Salt
1/2 tsp Ground Black Pepper
A Pinch of Xanthan Gum
More butter to top each dish
Directions:
Saute onion and peppers in butter for about 5 to 10 minutes until onion is translucent.  Add salmon, evaporated milk, heavy cream, salt, and pepper.  Bring to a simmer.  Sprinkle with xanthan gum to thicken slightly.  Spoon into ramekins, small pyrex bowls or sea shells.  Top each with a pat of butter and bake at 400 degrees for 20 minutes.
Caution: These will be very hot, so I always remove from the dish and plate for the children.
Enjoy!
We especially enjoy salmon with sautéed spinach.  I use about 1/4 cup of butter melted to saute a few cloves of garlic. Once it is fragrant, add your spinach and stir until wilted.  It is ready to serve immediately.