It's the weekend, and what is better than taking a night off from the kitchen to have a wonderful meal out?  For those of you not local to San Antonio, you will have to make the trip down here.  We know many of our readers are local though, so we have some great tips you can try for an evening out!
The kids are off to camp this week so we decided to try some new restaurants we had heard about.  We ventured out four nights this week which I think is a record!  Of the four, two were very much post worthy.
The first one worth mention was Cured, which is located in the Pearl area near downtown San Antonio.  I went with Erin and another Keto friend, Kelley, where we decided to get three different dishes and serve them family style.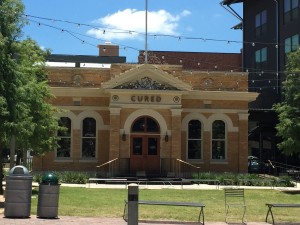 We ordered a great variety.
The first was the Crabmeat Ravigote: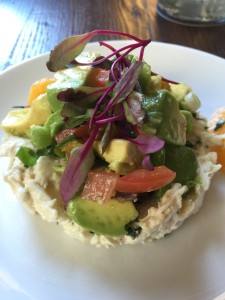 It is basically lump crabmeat in a mayonnaise base topped with a ton of avocado and salad fixings.  I asked them to leave off the beets.  It was a delightful summer dish, not to mention beautiful!
The second was the Wagyu Brisket Sandwich: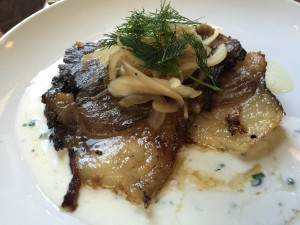 Of course, without the bun!  Another delicious dish.  Look at the Herb Creme Fraiche and picked onions!  And…the wonderful natural beef fat could only help to make it perfectly KETO!
The third dish was a hands down favorite with all three of us.  Pork Cheeks Poutine: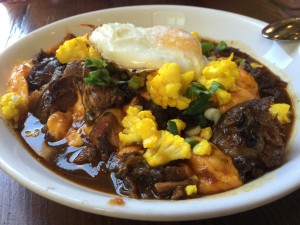 I am still salivating over this one!  I had never had pork cheeks or any kind of cheeks for that matter, but I guarantee I will have them again.  They are melt in your mouth tender with wonderful flavor.  They braise these and then slow cook them for hours.  It was topped with gobs of flavorful cheddar cheese, pickled cauliflower, and we chose to add the fried egg.  Can you say Keto, Keto, Keto!  AMAZING!!!  I can't say it loudly enough!
Over all Cured got 5 Stars from all of us for food, atmosphere, staff, and Keto friendly!
The other restaurant we tried was The Cookhouse!  This one is located off of St. Mary's on Mistletoe in a cute little restored house.  Make sure you have a reservation!  We went on Tuesday night and the only reservation they had left was 6:00 pm.  We probably watched them turn away 7 or 8 parties while we were there.  Another advantage of this restaurant is their corking policy.  You can bring your favorite wine to enjoy for a $20 corkage fee.
The Cookhouse is a New Orleans style restaurant so we were a little anxious going in because of all the heavy carb dishes usually associated with New Orleans.  They could not have been more friendly about substitutions here even though they had a large party that evening.  Everything is prepared fresh while you wait, and we were able to have a perfectly Keto Low-Carb meal.
We tried a lot of different dishes, and realized we ordered too much once the entrees arrived.  They are massive so go hungry!
We started with the Shrimp Remoulade Salad and Pork Cracklins: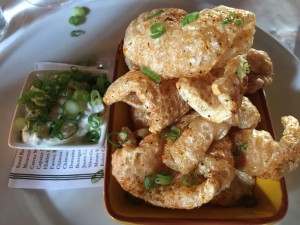 The Pork Cracklins are you guessed it, Pork Rinds served with an incredible cream cheese, sour cream and chive dip. These are a far cry from the pork rinds at the gas station!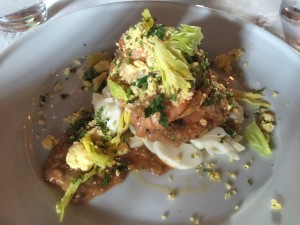 Above is the Shrimp Remoulade Salad-A meal in itself but watch out for the fried green tomatoes.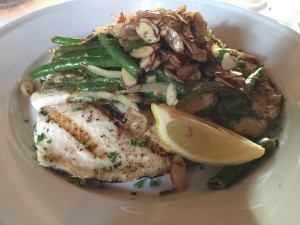 Trout Almandine above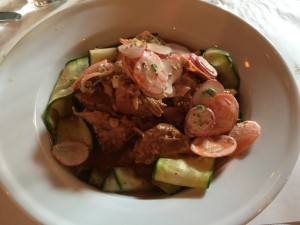 Braised Pork Shoulder with zucchini.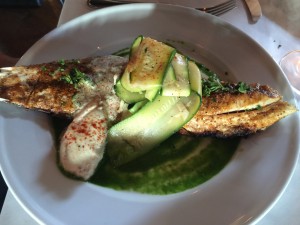 This was in place for the Blackened Drum in the menu, I believe it was a red fish.
When you think of cajun often the first thought after spicy and gumbo is grits. None of the four of us had grits and none of us missed them.
The Cookhouse was super accommodating and the objects on your screen are about three times larger than they appear. 🙂