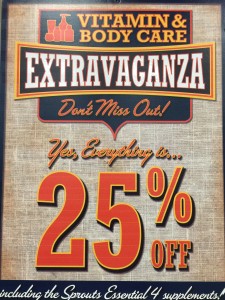 I always make my Sprouts run on Wednesdays because it is double ad day, meaning you get all of last week's sales, plus the sale prices on the items for the following week!  It is usually a really great deal for produce.  Not everyone wants to make the trek over to 1-10 and Callaghan or 281 and 1604, but this week is worth it!  All supplements are 25% off, and if you spend more than $100 you get an additional 10% off.  This also includes items like Jay Robb Whey Protein and Stevia products!  It is worth the trip this week!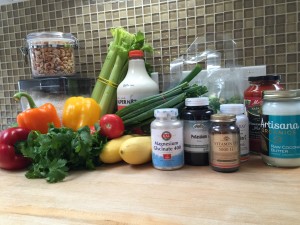 I got some great products on sale today and stocked up on:
Bulk Cashews (only in moderation folks)
Bulk Coconut
Grass Fed Whole Milk for the kids
Organic Celery
Cilantro and tomatoes to make another batch of salsa
Summer squash and zucchini (on sale – I always stock up)
All colors of bell peppers (on sale – stock up)
Green onion to use in a stuffing I make for the yellow squash (to be posted at a later date)
Coconut Butter
Brussel Sprouts (The ultimate cancer fighting food)
The Spaghetti sauce we like is also on sale
All Supplements are on sale – yes ALL!!!
Let's talk about supplements for a minute…  There are a few we recommend to anyone starting on a Ketogenic diet.  The main reason, is because you are switching to REAL food and eliminating ALL processed foods and grains from which you obtain a large amount of sodium.
We always advise that you see your primary doctor to order base line blood tests to see where you might be deficient in certain nutrients. Shoot for optimal or ideal levels on your blood work- not average levels! (Unfortunately, our average population is not all that healthy.) We take more than we are showing you based on our own individual deficiencies.  The following are needed by the vast majority of individuals.
When you go through Keto Adaption you lose a massive amount of toxins and water. It is very easy to get dehydrated because you are losing essential minerals as well.  These supplements will help you immensely…

Celtic or Himalayan Salt – (The darker the better) think of all the boxed and processed foods you are no longer eating – they are filled with salt. When you give them up, you need to make sure you are supplying your body with quality sodium filled with trace minerals.

Potassium (99mg) – I take one in the morning and one in the evening.  If you have cramping when starting Keto, you can up the dosage and then bring it back down to two a day.  It maintains fluid balance in the body and relaxes muscles – also eat avocado, parsley, cabbage, celery, watercress, coconut, and cauliflower.

Magnesium Glycinate (800mg at night) – Magnesium helps hold potassium in the cells. It promotes healthy muscles, strengthens bones and teeth, heart muscle, nervous system, helps digestion and energy production.  Magnesium is also great for constipation, sleep and keeping a regular heart rhythm. Good sources: Nuts
Vitamin D3 – Is actually a steroid hormone that activates more than 930 genes in human physiology mostly in the brain – powerfully anti-inflamitory and a great antioxidant. Everyone differs on dosage – see your doctor, but D has over 900 uses in the human body. Depends on sunlight, body weight and other factors
Statins inhibit vitamin D production
Low Vit D Contributes to: Alzheimer's, Parkinsons, Multiple Sclerosis
Weak bones and teeth, Illnesses
Other sources are fish, eggs, cheese, and oysters.
Vitamin C – This is great for your immune system and overall good health.  I usually take 1000mg in the morning and 1000mg in the evening.  When you limit your fruit intake, it is good to supplement with a quality Vitamin C.  Make sure you are also eating your bright veggies like the yummy peppers I bought today, broccoli, cauliflower, lemons, and limes.