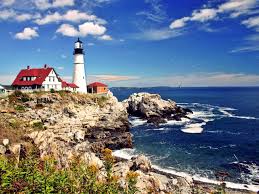 I am imagining cooler weather at this point in San Antonio.  The humidity is unbearable at the moment, but the sight of pumpkins, falling leaves, and mums make me pretend it's cold outside and dream of the cool crisp mornings to come.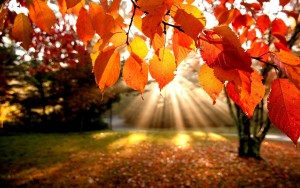 I am piggy backing off of Erin's post earlier in the week.  She posted our recipe for bone-broth, which if you haven't tried, you must.  I didn't make it for about a year after I heard about it, and then, once made, I was kicking myself for all those months without.  It is an automatic pick-me-up, arthritis healer, sore throat cure, and overall, just an incredible remedy for almost anything.  During flu season, everyone in our house gets a cup everyday to boost the immune system – and it works.
So what else is great when cooler weather arrives or you are feel sub-par?  Soups, chowders, stews – anything piping hot!  Now, I have to come clean…I was really skeptical about this one.  First, I have never made clam chowder before.  Second, this was a far deviation from the original version I have seen.  Third, would my children eat something with clams?  My reaction was, why not?  Wow!  And…Oh YES, they will!  In fact, three out of four went back for seconds!  So, in thinking positive thoughts about cooler weather, here is a brand new one for you!  This is another one that you can make ahead on a busy afternoon and dinner is prepared for later!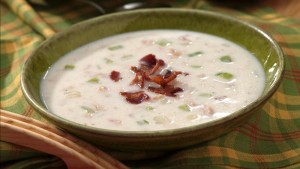 Creamy New England Clam Chowder With Bacon
Ingredients:
4 – 6.5 oz cans of chopped clams packed in clam juice
2 – 8 oz bottles of clam juice
2 cups chopped leeks (white and light green parts – this was 5 leaks for me)
1 large head of cauliflower chopped into chunks
8 – 10 slices of bacon chopped into pieces
1 cup broth
1/2 tsp dried thyme or 2 tsp fresh
3 TBSP fresh minced Italian parsley
1/2 tsp fresh black pepper or more to taste
1 tsp Himalayan salt
1/2 cup butter
Directions:
In a large soup pot, cook your bacon over medium heat until just starting to brown.  Add you leeks and sauté until wilted and soft.
Remove half of your mixture and set aside.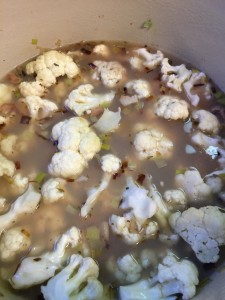 Add your cauliflower, clam juice, juice from the canned clams (save the clams though), water and thyme.  Increase heat to high and bring to a boil.  Then reduce heat to low, cover, and simmer for 30 to 40 minutes until the cauliflower is very soft.
Using an immersion blender, puree the soup until it is light and creamy.  It should start to resemble clam chowder now.  I love my Cuisinart Immersion Blender!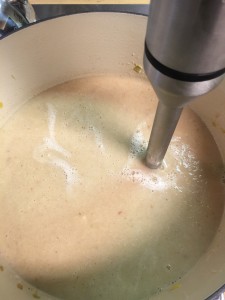 Now, just add the clams, the rest of your leeks and bacon, butter, salt, pepper, and parsley.  Simmer for 20 minutes.  You can always add cream, or more butter, salt and pepper to taste.  At this point, you can turn off the heat and save it for later or serve piping hot with a little cheese on top if you like.
Enjoy!