I don't know about you, but getting back into the swing of things has been tough this week.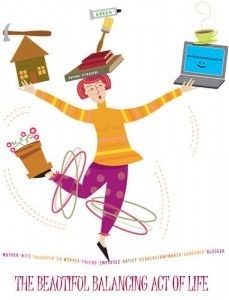 We returned from vacation, had another Christmas at home, entertained family, Happy New Year, undecorated, reorganized, and now back to school and after-school activities!  It's a lot to jump into after a couple of weeks off!
The last thing I always want to do when we return from vacation, is go to the dreaded grocery store.  This means a lot of experimenting and improvisation in our house because my crew expects three hot meals a day out of me, and Mom is pooped right now.
What to do?  The freezer!  This is a word I rarely use because really, all we use our freezer for is ice and meat.  We purchased a half of a grass-fed cow in August, and we still have quite a bit left.  We always crave red meat when we have been traveling which was obviously the case, because I went to the freezer and pulled out stew meat, a roast, and some steaks.  The steaks we grilled right away, but the others required a little more effort.  Not much though.  On undecorating day, I knew I would be busy so I pulled out an old recipe, made a few changes, and prayed we would have something tummy warming good for dinner.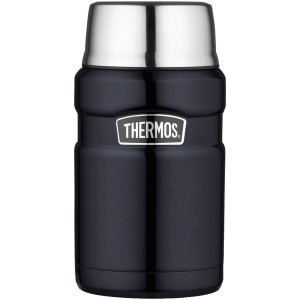 It was amazing! In fact, my ten year old has asked for stew in his thermos for lunch every day since that he has needed a lunch.  We have had some moist bone-chilling days in South Texas recently, and there is nothing better than good, warm you up from within, home-cooked meals from the heart!
This takes a little forethought, but get it going, and forget about it all afternoon.  Before you know it, it is dinner time and it's ready to go.  Perfect for those basketball practice nights when everyone is coming home at different times.
Hearty Beef Stew
3 lbs Stew Meat chopped
16 oz bacon
2 cups beef broth
14.5 oz can petite diced tomatoes, drained
1 green bell pepper
1 cup baby carrots
1 small onion
6 cloves garlic, minced
2 Tbsp tomato paste
2 Tbsp Worcestershire Sauce
2 tsp pink Himalayan salt
2 tsp black pepper
1 tsp garlic powder
1 tsp onion powder
1 tsp dried oregano
Instructions:
Slice your bacon into small pieces and cook in a large dutch oven.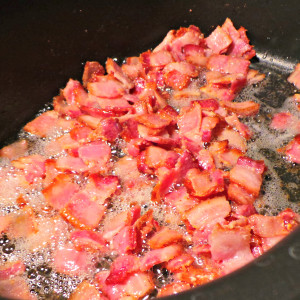 Once your bacon is cooking and you have a nice layer of grease, add your stew beef.  Cook until browned, and then add your onion, pepper and garlic.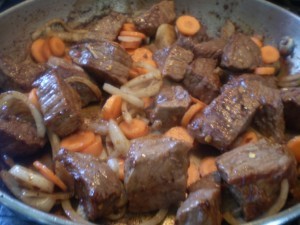 Cook these for about 5 minutes.  Add your remaining ingredients, stir, and bring to a boil.  Once boiling, reduce the heat to low.  Cover and simmer for 3 hours or until you are ready to serve.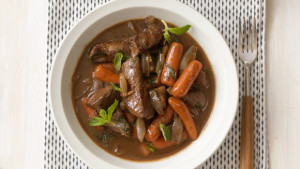 My family prefers their stew runny, almost like a beef soup.
If you are used to a stew with potatoes and a thicker sauce, this will not turn out like that.  If your family likes the thicker stew, dust the top of your stew with just a pinch of xanthan gum.  As it sits and you stir, it will slowly thicken.  This will give you a more stew like consistency.
Enjoy!