A Savory Summer Side!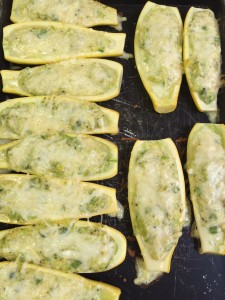 Perfect for the summer time veggie season!
This is super easy, and so delicious anyone in your family will love it!  Even my picky 4 year old will at least eat out the stuffing!
Ingredients:
5 yellow (summer) squash
1 zucchini squash, steamed, cooked and diced
2 eggs
3/4 cup Parmesan cheese + additional to top squash
1/3 cup melted butter + 2 Tbsp (not melted)
1 bunch green onion
4 Tbsp almond flour
1 tsp oregano
1 tsp garlic powder
Salt & pepper to taste
Instructions:
Start with your yellow squash by washing and cutting off the ends.  Then cut in half lengthwise.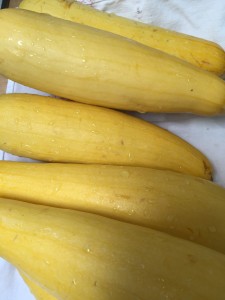 One squash = two servings.
Lay them cut-side up in a glass pyrex baking dish.  Fill the bottom of the dish with water so you can steam the squash until softened.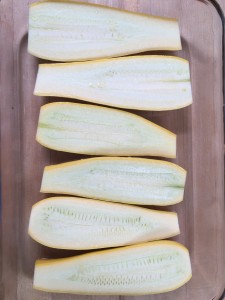 Microwave on high for 4 minutes.  Check them after this time…if they are still hard in the middle, then keep cooking them on high in 2 minute increments until they are soft enough to scoop, but not mushy.
When they are tender, remove them and let them cool a bit or you will burn off the tips of your fingers. Maybe not, but it will hurt!
When they are cool enough to handle, use a soup spoon, and start hulling out the inside of the squash. Hull all but one half – leaving this one to chop finely.  Be careful not to poke all the way through.  Place the squash you have removed into a mixing bowl, and your now empty "boats" onto a cookie sheet.
Finely chop one half of one yellow squash into small bits, along with one zucchini squash that you have also steamed and finely diced.  Now, you will see a lot of water in the bottom of the bowl.  Try to drain as much of this as possible or it will be too runny.  I press and drain 3 or 4 times.  You could use a mesh colander for this also.  It is okay to be moist, but you don't want standing water at the bottom of the bowl.
Once most of the water is removed, I use a sharp knife and run it through the squash in the bowl to break up the membranes in the squash.  This is not an exact science.  Just break up the larger pieces that you scooped out.
Add your eggs, 3/4 cup Parmesan cheese, 1/3 cup melted butter, finely chopped green onion with some of the green tops included.  Then add 2 Tbsp of almond flour and your seasonings.  Mix well!
Use the mixture to fill your squash "boats" so it is slightly heaping.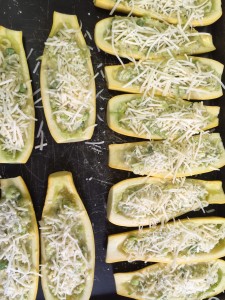 Lightly sprinkle with the additional 2 Tbsp of almond flour, put a pat of additional butter on top and finish with as much Parmesan cheese as you desire.  I have also topped with mozzarella cheese as well.  Both are delicious!
Bake in the oven for 25 minutes at 350 degrees, and you have an amazing side dish!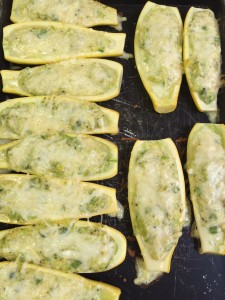 Enjoy!