Refreshing Summer Limealicious Dessert

Going Keto means no sugar, but it doesn't mean no desserts!
Every once in a while, I like to experiment with sweet recipes.  Sometimes it is as easy as taking an old recipe and just replacing the sugar with Swerve or Stevia.  Sometimes it takes a little more creativity, and other times, I can find new Keto recipes online and adjust to our taste.
I was a legitimate sugaraholic before I started Keto.  I was one that had to have desserts after every meal.  Once I started on something sweet, I had to finish it, even if I was completely full!  Keto has helped with this sugar addiction tremendously.  I still like sweet, but I don't crave it like I did.  We also keep sweets to a minimum so that the kids don't expect something sweet after every meal.  It is always a special treat!
When I say addiction, sugar is a real addiction!  Did you know that sugar is 8 times more addictive than cocaine?  In fact, sugar has almost the same molecular structure as cocaine.  That is a pretty scary statistic knowing all the diseases that sugar causes and progresses.  We will talk about this more, but sugar is BAD!!!!
I will no longer eat anything with sugar, but have substituted it with Swerve and Stevia.  I am also going to try chicory root in the near future too!  The following recipe uses Swerve.  Some, like my family, love Swerve and cannot tell the difference.  I have heard others say they experience an aftertaste.  I do sometimes taste sweet on my tongue when I drink water after eating something that was made with this substitute.  Overall, I think it is a great sweetener with no glycemic effect, no GMOs, and no digestive effects like Xylitol can have on some individuals.  It is all natural made with Erythritol, and is diabetes friendly and gluten free.  Another great component is that it measures just like sugar so you can use it in your old recipes when sugar is the only substitution needed.  It is great for us Ketoers.
We will do a post soon on all sweeteners, but Swerve is my primary go-to.  It can be purchased at Whole Foods, Sprouts, and other health food stores, or online.  Even Amazon has it, and we have it in our Amazon store here.  There are two different kinds.   One is granular like white sugar (orange package), and the other is Confectioners Style (purple package) which is more like powdered sugar.  I use Confectioners in this one.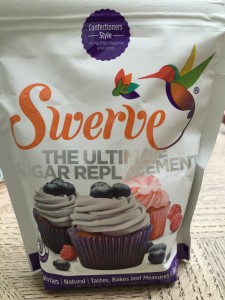 The Granular is great for anything baked, but can get grainy when refrigerated.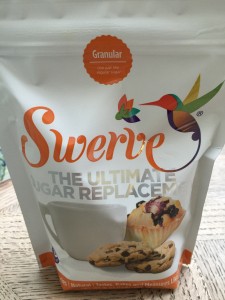 That being said, any time I make something cold, I use the Confectioners Style.
Without further ado, here is a scrumptious recipe for you to try that is perfect for summer!
Key Lime Cheesecake Bars
Crust:
1 1/2 tsp cinnamon
1 1/4 cup Honeyville almond flour
1/2 cup Swerve (Granular)
6 Tbsp butter, melted
Filling:
3 1/2 8 oz packages of Cream Cheese, softened
1 cup Swerve (Confectioners)
1 tsp vanilla extract
4 eggs
1/2 cup Key Lime juice (Yes, it makes a difference – this part is time consuming so take that into account)
Instructions:
Preheat oven to 350 degrees, and grease a 9×13 pyrex baking dish with butter or coconut oil.  Grease well!
Combine your almond flour, 1/2 cup of Swerve granular, cinnamon and melted butter.  I use my hands to really combine well because it is a thick crust-like consistency.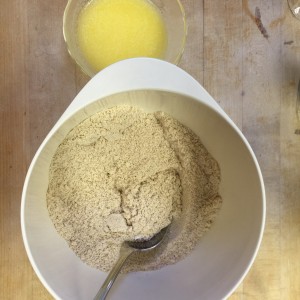 Press all the crust evenly into your baking dish or use a mini muffin pan with liners to make mini cheesecakes.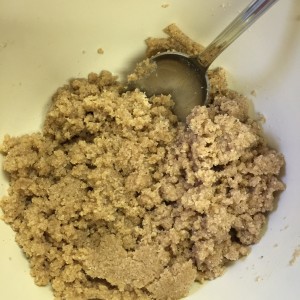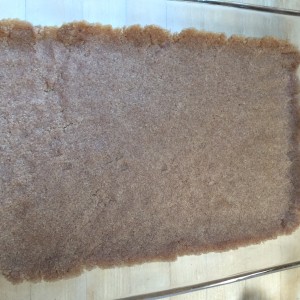 Bake the crust for 8 to 10 minutes.
For the filling:
In a large mixing bowl, beat your room temperature cream cheese until soft and fluffy.
Add your cup of Swerve confectioners, and vanilla.  Continue to beat until well combined.  Add your eggs, one at a time, beating in between each.  Add your lime juice slowly, while beating constantly.  It should be fairly runny and smooth.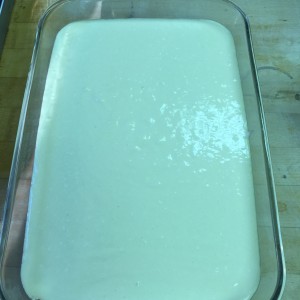 Pour the mixture over your baked crust.  Bake for 35 to 40 minutes until firm.  (About 15-20 minutes for mini-muffins, but check because sizes can differ.) Cool completely, and then refrigerate for at least 2 hours, but preferably overnight.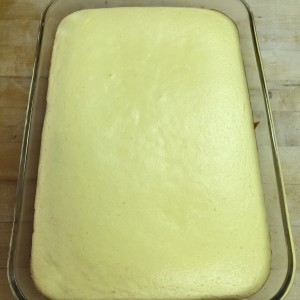 Cut and enjoy.  Serve with Keto whipped cream if you desire for a super rich dessert.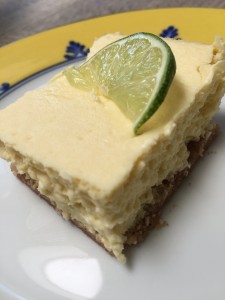 Note: This crust is delicious, but can be crumbly so use a very sharp knife and a spatula to remove from dish.