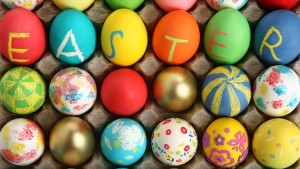 We love Easter in our home!
We love the reason behind it, and the celebration of Christ's resurrection. We love the excitement of the Easter egg hunt, the wonderment, the family, the traditions, and yes, the FOOD.
What oh what to do with all those eggs you dyed?  We used to hunt those dyed eggs as kids until the dog got sick on them :-).
Our children just hunt the plastic kind, but I still love the tradition of dying the boiled eggs on Good Friday!  They love it too!  But what do you do with all of them?  This is where I can help!  They are just sitting in your fridge, right?  Well, don't let them go bad.  I have ideas for you!  And, yes, they are still good to eat!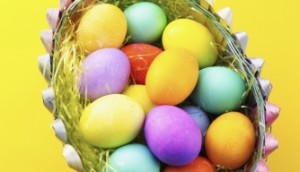 Take those beautiful pastel eggs and use them – ketofy them!
There are numerous uses for boiled eggs such as adding them to salads, (especially tuna salad and cobb salad), deviled eggs (an Easter favorite), add them to sautéed spinach or asparagus with hollandaise, or even just eat them for breakfast or a snack with a little salt and pepper.
My favorite Easter memory is creamed eggs though!  Creamed eggs just scream Easter morning breakfast for me, and this is how my mom used our dyed eggs on Easter morning.  She literally just used a Béchamel sauce and added the chopped boiled eggs.  Of course she served it over well-buttered toast, and it was delicious, but when you are eating against the grain you need to modify.  What do you do when you can't use flour in your Béchamel?  Did you know that if you simmer cream long enough, it will naturally thicken?  This trick I did not know until I went Keto!
This is what I did:
Peel and cut up your boiled eggs and set aside.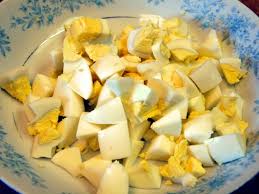 Allow about 45 minutes for your cream to thicken.
Using 4 cups of heavy whipping cream, (add a Bay Leaf if you like), and bring to a rolling boil over medium-high heat.  Keep an eye on it because it will make a mess if it boils over, and it does have a tendency to do this.  Keep the cream at a low boil for about 45 minutes stirring frequently over medium heat.  When it reaches the consistency of a cream sauce, turn it off.  It can take a little longer, but not more than an hour.  (Yes, I would say this is a weekend treat unless you get up really early.)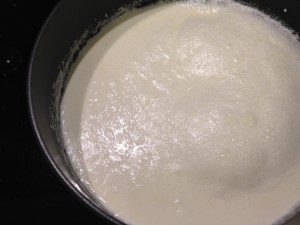 Now, you can add salt (1 tsp Pink Himalayan) and pepper (1/2 – 3/4 tsp freshly ground) and keep it as it is or add some more flavor.
Now, plain is delicious, but I took it a step further:
I added a couple of Tbsp of fresh chopped parsley and 1/2 cup of fresh parmesan.  Stir until melted.  Lastly, add your eggs and gently mix them in.  You can also add a few TBSP of butter for extra decadence.
My family loved it, but couldn't figure it out the new taste with the cheese until I told them what I added.  It was deliciously creamy and decadent.  You don't even need bread!  Spoon it into a bowl and enjoy your new tasty, gluten free treat!