Spaghetti was my husband's favorite meal before we made the low carb lifestyle change.  This simple substitution of Zucchini instead of the dreaded wheat pasta is simple and delicious!  Just follow these steps:
1.  Wash (well), trim and peel your zucchini.  I used 8 squash (family of 5) for these pictures so you can get an idea of the final product and how many you will need for your family.  I find the fatter shorter zucchini easier to work with in the spiral vegetable slicer.  The one pictured was purchased at William's Sonoma.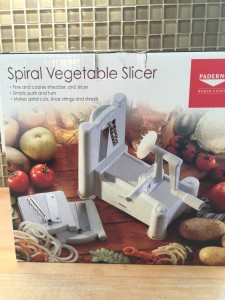 2.  Start your spiraling one at a time.  This is super fast.  I let mine drop onto a flexible cutting board and then scrape them every so often into a colander.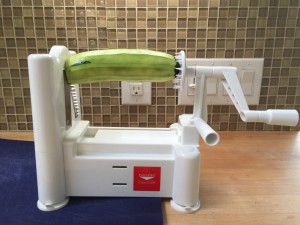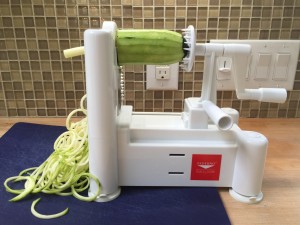 3.  As you place your "noodles" into the colander, salt them well to help release the moisture from within the vegetable.  So..layer, salt, layer salt, etc. until your colander is full.  Then place the full colander in the sink to let the moisture drain out.  I usually do these in the afternoon before school dismissal, and then let them sit for a few hours so plan ahead.  (Note: You do not have to let them sit this long…30 minutes will suffice.  I just like to leave them and forget them during the busy time of the day.)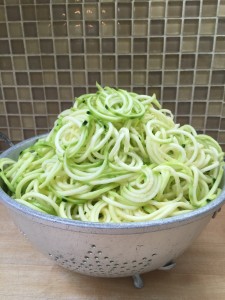 4.  You can see how the heaping pile of squash turns into your little pile of noodles!  That is the amount of water in the squash!  VERY IMPORTANT!  RINSE your noodles to remove all that excess salt!  I rinse well and then press out all the excess water.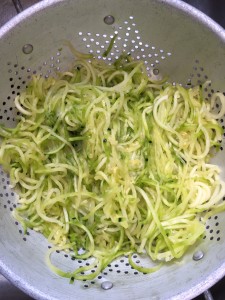 5.  When you are ready to serve these, melt some Kerrygold in a sauté pan and cook on medium for about 10 minutes.  I do this about 5 minutes before the meatballs come out of the oven.  It's that easy to have pasta once again!
For the Meatballs you will need:
2 lb grass-fed ground beef
2 eggs
1 cup onion (depending on your taste)
1 Tbsp Ground Flax Seed
4 cloves garlic
3/4 tsp black pepper
1/2 tsp pink Himalayan salt
1/2 cup grated parmesan cheese
1 tsp Worcestershire sauce
1/2 tsp Hot Sauce
Grated Mozzarella Cheese or Cheese Sticks
1.  Lightly sauté the onions and garlic in a tbsp of butter and let cool.  Poor in a mixing bowl and mix all of your ingredients together with your hands EXCEPT for the mozzarella cheese.
2.  Make about a ball about an inch to inch and a half in diameter and flatten out.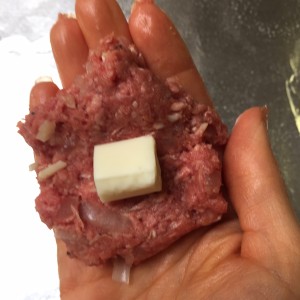 3.  Place your mozzarella cheese in the middle and form a ball around the cheese.  I used cut up cheese sticks but have used shredding cheese before as well.  Place them on a foil lined cookie sheet sprayed with coconut oil.
4.  Keep going with the meatballs until you have used all of your meat mixture.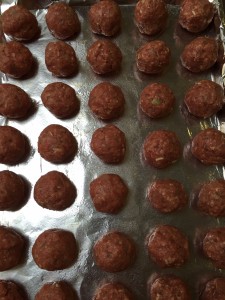 5.  Cook in a preheated 375 degree oven for 20 to 25 minutes.
6.  Serve over your zucchini noodles and favorite low sugar, all natural pasta sauce like this one: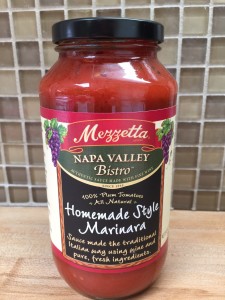 7.  Enjoy your yummy deliciousness!  This is great leftover too!  Annnnnnd…you can even top with more parmesan and mozzarella if you choose to to so.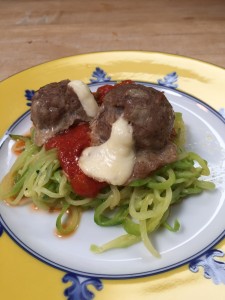 8.  This will soon be a favorite in your house too!