This is what we call an ABC Burger!
A=Avocado
B=Bacon
C=Cheddar Cheese
Put it all together, and what do you get…delicious, filling, and crowd pleasing!
No need for a bun.
Every Sunday, I make sheets of bacon to munch on during the week!  This allows us to have bacon every morning, even in a pinch.  I used to make it in the skillet every morning the old fashioned way, but this way allows me to make much more at a time, save all the bacon drippings, and have more time in the morning.
---
Cookie Sheet Bacon
Preheat your oven to 375 degrees.
Line a cookie sheet with sides (jelly roll pan) with heavy duty aluminum foil.
Lay your bacon out without the sides touching.  I can usually get 10 to 12 pieces on a sheet.
The cooking time really depends on how thick your bacon is, how you are going to use it, and how cooked you like it!  If you are going to keep cooking it in another dish, I do it par-baked which just means I remove it before it is thoroughly cooked through.
I use pretty thick bacon and usually cook it about 20 minutes.  For thinner bacon, start checking it at about 12 to 14 minutes.
This is about 20 minutes for thick bacon: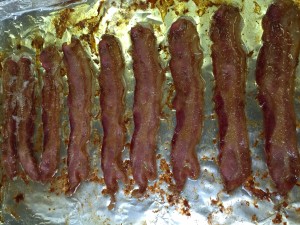 Remove your bacon to a paper towel lined plate to drain and crisp.
Do not discard your drippings.  I almost always try to make a dish using the bacon drippings the day I make bacon such as the Bacon Brussels or Bacon Green Beans.  If I am not cooking a dish, I save the drippings in a mason jar.  (Yes, just like Grandma used to save hers!)  Make sure you strain the bits out if you are using a jar – I use bits and all when preparing a dish the same night.
I reuse the tray over and over until I have enough bacon (and drippings) for my immediate and future bacon needs!  Then, when you are finished, drain your drippings and toss the foil!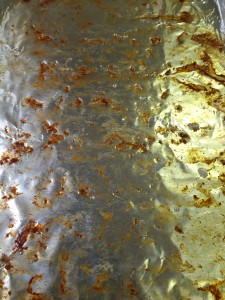 ---
This evening, we made ABC Burgers AND Bacon Green Beans (post to come) with all of that delicious bacon.
It is super simple, and your family will love you.
ABC Burger
I used 2 lbs of grass-fed 80/20 ground beef, and hand mixed with salt, pepper, and Worcestershire sauce (and any other herbs and spices you like in a normal burger).
Form the meat into patties the size you like.  My husband grilled them out back as usual, but about 5 minutes before removing them, adds the bacon and tops with sliced cheddar cheese.  After the cheese melts, remove them from the grill.
We place them on a bed of lettuce with mayo (you can use mustard too) and top with sliced avocado. You will realize you never need a bun again!
This is a super easy weeknight meal or a fun weekend meal!
Here is your tip for the week if you need it even easier…Order Up, in San Antonio, makes their own version of an ABC Burger made with grass-fed beef that is delicious!  They serve theirs in a lettuce wrap, on request, and serve their delicious Chipotle Mayo on the side.  It is fantastic, perfectly Keto, and we love the people there as well.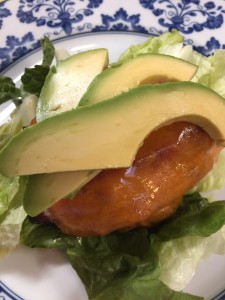 Enjoy!